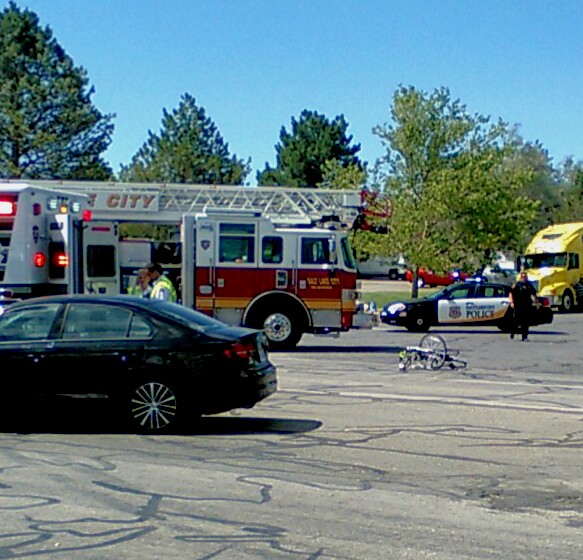 SALT LAKE CITY, Utah, July 19, 2016 (Gephardt Daily) — A woman in her 60s was critically injured Tuesday afternoon when a car collided with the bicycle she was riding.
She suffered life-threatening injuries, and was taken by Air Med helicopter to University Hospital. Her name has not been released.
The woman was one of two bicyclists riding west on Amelia Earhart Drive near Neil Armstrong Road when a car behind them, also heading west, failed to see the riders.
The driver "… didn't see the bikers until right the last minute," said Lt. Michael Hatch, Salt Lake City Police Department. "He attempted to brake, swerved to the left, and ended up hitting one of the bikers."
Hatch said drugs and alcohol did not appear to be a factor.
"It looks like it's improper lookout or he wasn't paying attention to where he was driving," Hatch said.
The woman was wearing a helmet, according to officers on the scene.
A woman was taken by medical helicopter to a hospital Tuesday after a car hit her bicycle. Photo: Gephardt Daily/Steve Milner