SALT LAKE CITY, UTAH – August 12 (Gephardt Daily) — Mayor Ralph Becker and Jackie Biskupski have advanced to the Nov. 3 general election.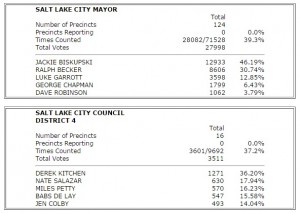 Unofficial results from yesterday's primary show Biskupski was the top vote-getter, with 46.19 percent to Becker's 30.74 percent. Luke Garrott, who represents District 4, received 12.85 percent, George Chapman got 6.43 percent and Dave Robinson got 3.79 percent.
The results will become final August 18.
Biskupski was quick to react to her victory. In a statement, she said:  "I am delighted by the outpouring of support I have received during the Primary Election and am very pleased with our final results. Running against an entrenched incumbent is a challenge but it is clear from the tally that Salt Lake City residents are ready for new leadership and support my vision for this great city.
"Thank you to all the candidates for running a good race and for bringing up important issues that we will continue to address.
"We are just 12 weeks out from the General Election, and our work is far from over. I'm committed to working tirelessly to share my message and vision, and solidify the confidence voters have shown me with today's vote.
"My campaign is more energized than ever and I look forward to winning the general election in November."
District 4 was the only Salt Lake City Council race that required a primary. Derek Kitchen, an LGBT activist, and Nate Salazar, a community activist, will advance to the Nov. 3 general election. Kitchen received 36.2 percent of the vote, and Salazar was second with 17.94 percent.
Miles Petty had 16.23 percent, followed by Babs De Lay at 15.58 percent and Jen Colby at 14.04 percent.
The 2015 Salt Lake City mayoral election will take place on November 3, 2015. The election will be held concurrently with various other local election. Ballots will be mailed out to voters Oct. 5.
For more information please go to https://slco.org/clerk/elections/election-results/