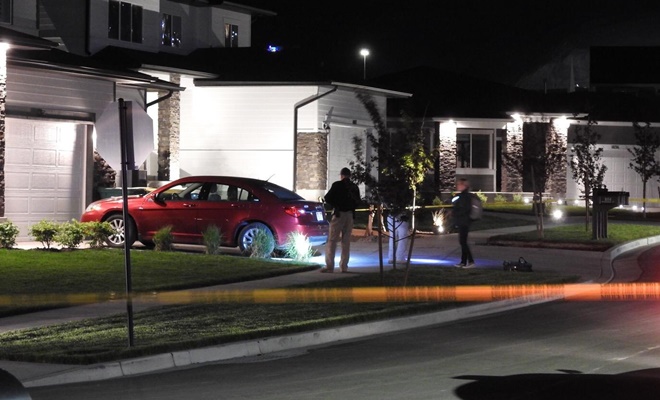 BLUFFDALE, Utah, May 13, 2019 (Gephardt Daily) — Police in Bluffdale issued an "attempt to locate" Sunday night for a man they say shot another man in a dispute over a business deal.
Bluffdale and Saratoga Springs Police Chief Andrew Burton said the incident happened a little after 9:30 p.m., near 1000 W. Witherspoon Court, when a 36-year-old man went to the home of a 34-year-old man he was doing business with.
"They had had a disagreement about the billing and so forth," Burton said. "Almost without warning, the 36-year-old man fired, we believe, six shots."
The shooting took place outside of the victim's home near the front door after a few words were exchanged, Burton said. The victim was hit once in the torso and once in his arm.
The victim's mother wrapped a tourniquet around his arm, and his wife drove him to the fire station, which is nearby.
Burton said the victim is in stable condition and was conscious, alert, and talking to investigators.
The suspect fled on foot, and police believe he ran to a vehicle he had parked around the corner.
The suspect, identified as 36-year-old Ryan Holladay, is described as Caucasian, 6 feet tall, weighing 225 pounds, with brown hair and hazel eyes.
He is believed to be driving a black 2017 Ford F350 pickup truck, with Utah license plate 8D4VD.
Burton said the truck may have some landscaping equipment in it, and possibly a landscaping business logo on the side.
He added that Holladay has some past criminal history.
Burton described the area as a "good neighborhood, never any issues at all," and said the incident is a disagreement that was elevated to the point where one man shot the other.
Police were in the process of gathering witnesses and surveillance video from nearby homes late Sunday night.
Gephardt Daily will follow up on this developing story as more information becomes available.