GRAND TETON NATIONAL PARK, Wyoming, Sept. 19, 2021 (Gephardt Daily) — Searchers from agencies including the FBI and the Teton County Sheriff's Office on Sunday found a body they believe to be that of missing woman Gabby Petito.
"Earlier today, human remains were discovered, consistent with the description of Gabrielle Gabby Petito," FBI special agent Charlie Jones, supervisory special agent, said at a news conference that started shortly after 4 p.m. Sunday.
"Forensic Identification has not been completed to confirm 100% that we found Gabby, but her family has been notified of this discovery. The cause of death has not been determined at this time."
Petito was reported missing on Sept. 11 after her mother last talked to her on Aug. 25. She was on a western road trip with boyfriend Brian Laundrie, 23, who returned home to Florida, alone, on Sept. 1. Laundrie has since been reported missing by his parents and is the focus of an intense manhunt.
Jones shared condolences with Petito's family.
"Joe and Tara Petito and Jim and Nicole Smith, every parent can imagine, this is an incredibly difficult time for the family and friends. Our thoughts and prayers are with them. We ask that you all respect the privacy as they mourn the loss of their daughter."
The body was discovered within the Spread Creek Dispersed camping area.
"The Spread Creek campsite area will remain closed to the public until further notice," Jones said. "This is an active and ongoing investigation. So we ask that everyone maintain distance from law enforcement personnel and equipment, vehicles and related activity for their own safety, as well as to protect the integrity of our work and respect privacy for Gabby's family."
FBI and North Port Police agents were among those searching for Laundrie in Florida. North Port PD tweeted at 3:41 mountain time that the search had ended for the day with nothing to report.
At 4:25 p.m., the department tweeted again:
"Saddened and heartbroken to learn that Gabby has been found deceased. Our focus from the start, along with the FBI and national partners, has been to bring her home. We will continue to work with the FBI in the search for more answers."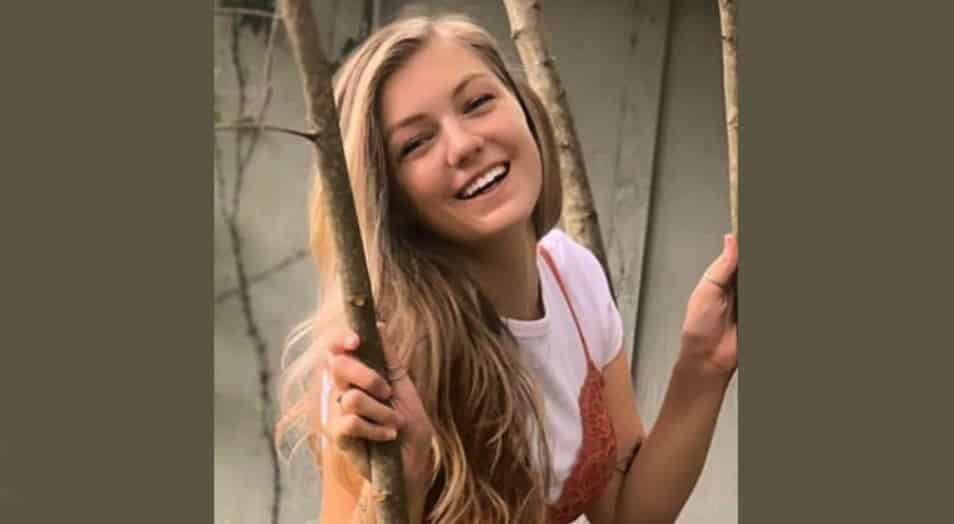 Below is a timeline of the Petito case.
● June and July, 2021 — The couple takes an extended, cross country trip in her 2012 Ford Transit camper van, with Petito documenting the journey on social media. On July 10, Petito shared a photo of herself at the Great Sand Dunes National Park and Preserve is in southern Colorado. On July 16, she posted photos from Zion National Park. On July 26, Petito shared another picture of herself at Mystic Hot Springs in Utah.
The photo below, shot in Ogden and posted on Aug. 25 on Petito's Instagram account, was the last image she shared there.
● Aug. 9 — Petito's travel adventure video Van Life is uploaded on YouTube.
● Aug. 12 — The couple is reported to the Moab, Utah, Police Department after a witness reports seeing an altercation, in which Petito admitted being the aggressor after Laundrie reportedly locked her out of their van. Police arranged for the couple to spend the night separately to calm down. Laundrie declined to press charges.
● Aug. 25 — Nicole Schmidt, Petito's mother, says this is the last day she got a text from her daughter's phone, although Schmidt has expressed some doubt her daughter typed it in.
● Sept. 1 — Brian Laundrie returns alone to his family home in North Port, Florida, in the van owned by Petito, who also resided with the Laundries.
● Sept. 11 — Members of Petito's family, based in Long Island, New York, report 22-year-old Gabby as a missing person. Laundrie's family, speaking through an attorney, declines to talk with police.
● Sept. 16 — Body camera video of the police interview in Moab with Petito and Laundrie was released.
● Sept. 17 — The Laundrie family attorney, police and FBI officials confirm Brian Laundrie left the family home three days earlier.
● Sept. 18 — FBI and North Port police begin a search of the Carlton Reserve, a 24,565-acre nature preserve in Sarasota County, Florida, where Laundrie's family tells officers he may have gone.
● Sept. 19 — The searches in Wyoming and Florida continue.