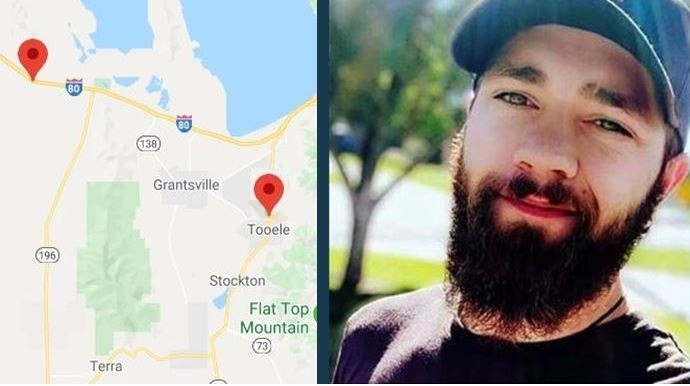 TOOELE COUNTY, Utah, June 5, 2020 (Gephardt Daily) — A body believed to be that of 24-year-old Devin Perryman, the suspected victim of a Tooele homicide, has been recovered about two miles southeast of Interstate 80, near the town of Delle.
Police believe they have Perryman's body based on tattoos found on the remains, Tooele City Police Sgt. Jeremy Hansen told Gephardt Daily.
Police believe that Perryman and 23-year-old Austin Strehle arrived at the mechanic's shop, at 363 N. Garden St., Tooele, with the intent to rob residents who live in an apartment in the back, Hansen said.
"What happened is Austin Strehle and Mr. Perryman went to the house to commit a robbery, and during the course of the robbery, a shooting occurred in the residence, which resulted in Mr. Perryman losing his life," Hansen said.
When police arrived at the scene, Perryman's body had been removed.
Police are not yet ready to say who they believe did the fatal shooting, Hansen said, adding that "shots were exchanged."
Hansen said Strehle was arrested on Friday and was booked into the Tooele County Jail on suspicion of aggravated robbery, aggravated burglary, and resisting/interfering with an arrest.
Strehle is also charged with murder, and Hansen said that charge is appropriate regardless of who fired the gun because Strehle traveled to the residence with Perryman to commit a robbery, which resulted in Perryman's death.
Police are also continuing their search for Brandon Burr, 38, who is believed to have been in the residence when Perryman was shot, and who is wanted for questioning. Burr is not a resident of the house.
"Because we know he was there, we want to know what he saw, what he observed," Hansen said.
Another person police had sought to find, 26-year-old Caitlyn Fluckiger, was located on Thursday, Hansen said.
Hansen said once officials can talk to Burr and get his version of what happened, then finish processing the evidence gathered during the forensic investigation, they can release more details.
"The body of Mr. Perryman is at the Medical Examiner's office for autopsy," Hansen said. "We still have a lot of work ahead of us. The state crime lab has been on the scene for three days.
"We only have 40 officers, so to have the state Crime Lab's help has been amazing. Once we know who did what, we will submit a report to the county attorney."
Gephardt Daily will have additional details as the story develops.