ST. GEORGE, Utah, Aug. 24, 2016 (Gephardt Daily) — Officials have confirmed that human remains found in a remote area of the Arizona Strip are those of Utah resident David Heisler.
Mohave County Sheriff's officials say the cause of death is undetermined for Heisler, 30, of Santa Clara, but it could be a homicide.
The body was located Aug. 19.
"A body was located by a BLM geologist on the Arizona Strip," said a statement from Chad Holt, Santa Clara-Ivins Police Department.
"Based on preliminary investigation, law enforcement officials believe that the body is that of David Heisler. The body has been sent to the Mohave County Medical Examiner's Office in Lake Havasu City, Arizona, for official confirmation of the identity."
Heisler went missing from his home on June 27. That was two weeks after he was awarded sole custody of the 6-year-old daughter, whose mother — Kelley Perry — is one of three suspects arrested in the case on charges of burglarizing Heisler's home and kidnapping him.
Prior to Heisler's disappearance, Perry had gone to social media to share her unhappiness with the custody decision.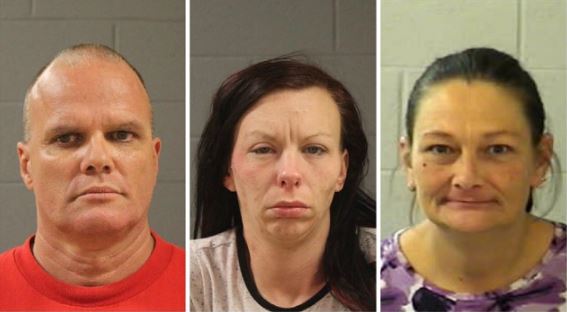 Francis Lee McCard, 55, and Perry, 31, were arrested on July 5 in connection with the case. Suspect Tammy R. Freeman, 54, was arrested July 9.
The badly decomposed body was found about four miles from where McCard claimed to have left the victim alive.
McCard reportedly told law officials his intent was to go to Heisler's home to "scare" him. Police said McCard and Perry both admitted to assaulting Heisler in his home, tying him up and placing a pillow case over his head before forcing him in the back seat of his car.
McCard said he drove Heisler about 40 miles, to a remote area on BLM Road 105 in Arizona, and left him there, alive, standing next to a tree.
Authorities searched the area, and found a pillowcase and zip ties, but did not find Heisler.
The three suspects allegedly went to Mesquite to gamble with money stolen from Heisler's residence. Based on surveillance recordings, police say Perry and Freeman also helped McCard alter his appearance by shaving his head in the bathroom of the Virgin River Casino.
The case remains active as a joint investigation with the Santa Clara Police Department.