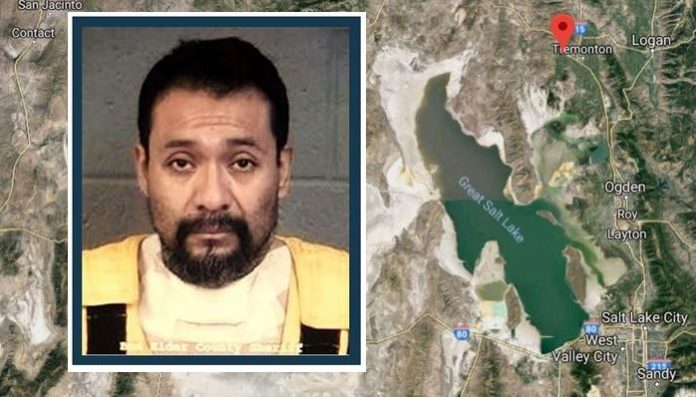 BOTHWELL, Utah, March 9, 2019 — A Box Elder County man has been booked into jail after his wife was found dead from stab wounds.
Jose Gutierrez-Torres, 39, was booked on suspicion of aggravated murder, a first-degree felony. The dead woman was 53-year-old Maria De Jesus Cervantes.
A probable cause statement filed by a deputy of the Box Elder Sheriff's Office says that police were alerted to the situation on Sunday, March 3, after Gutierrez told his brother-in-law that "he had done something stupid, and that he needed medical and that his wife needed medical as well."
The brother-in-law called police, and Tremonton Police officers responded to 9860 W. 10400 North in Bothwell, an unincorporated area in Box Elder County.
Officer Tyler Bell knocked on the door, and Gutierrez-Torres answered, the statement says.
"Bell found that he (Gutierrez-Torres) was covered in blood and the only occupant found in the home besides the deceased. Bell tried to assist him at that time, but Jose started to fight. Bell got him down on the ground by the door jam and calmed him down."
Bell cleared the home. In the back west bedroom he found De Jesus Cervantes, face down on the floor, covered in blood, the statement says.
"EMS was brought into the home to check her for a pulse. No pulse was found."
The victim was found near a steak knife wrapped in a blood-soaked washcloth.
Detectives went to McKay Dee Hospital, in Ogden, where Gutierrez-Torres was being treated for small lacerations on his right hand, "that appeared to have come from a knife," the statement says. "On Jose's feet they also observed blood that was consistent with the bloody foot prints that were found in the home leaving the back bed room to the front door."
Sgt. Bowcutt and Detective Yates also observed Jose's body and "did not locate any wounds that were consistent with defensive wounds. It did not appear that Jose had been assaulted in anyway other than by himself."
Maria was found to have four stab wounds to her neck. They appeared to be consistent with the steak knife found near her body, the statement says.
"Jose's sister stated that around midnight, she received a text from Jose that he was soon going to join his (recently deceased) brother-in-law…. Then they received a phone call at 5:45 a.m. from Jose, who stated 'they are dying' and could hear Maria groaning in the back ground."
Maria's daughter arrived at the scene, the statement says, and told police she got a text from her mother at about 5 a.m., but didn't see it until she woke up later in the day. The texted stated that "Jose has a knife, call the police," the police statement said.
"All the evidence indicates the decedent was murdered by Jose, who then attempted to take his own life by repeatedly slashing his own throat."
Gutierrez-Torres is being held in the Box Elder County Jail because he is considered a possible danger to the community and a flight risk.