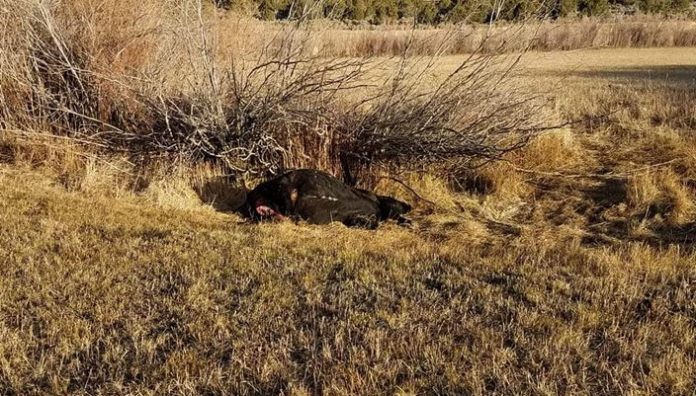 BOX ELDER COUNTY, Utah, Oct. 25, 2019 (Gephardt Daily) — A rancher in the unincorporated Grouse Creek area of Box Elder County is seeking answers after one of his cows was found dead under suspicious circumstances.
A reward will be offered to the person who can provide information that leads to the apprehension and arrest of those responsible for the animal's death.
The rancher found the cow on Wednesday, and estimated it had been dead about two to four days. Because of damage done by predators on the carcass, it can't be determined what killed the animal, a statement from the Box Elder County Sheriff's Office says.
"It was suspicious to the rancher because the cow was partially concealed by some willows and the predator activity was not at a normal starting point on the carcass," a statement says. "The usual locations had been attacked; but a significant amount of activity was at an unusual place on the carcass."
The rancher, Jay Tanner, posted a photo (above) on his Facebook page in hopes to get the word out to hunters and such to be cautious in the area, the BESO statement says.
"The cow was raising a calf but luckily the calf is of the age that it will
survive on its own. Mr Tanner was very gracious in giving everyone the benefit of the doubt that this could easily been an accidental shooting, if it was a shooting, because the cow was partially concealed by brush and willows in the area," the statement says.
"However, the fields were legally posted 'No Trespassing,' and with other livestock in the area they should not have been shooting there."
The Utah Department of Agriculture in cooperation with the Utah Farm Bureau and Utah Cattlemen's Association is offering the reward for information leading to the conviction.
The sheriff's office said it will be posting details on the reward on its Facebook page. That paged can be reached by clicking here.