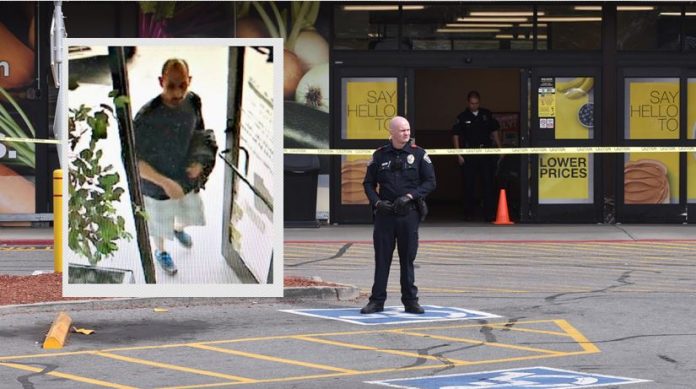 To see an updated story, click here.
WEST VALLEY CITY, Utah, April 11, 2018 (Gephardt Daily) — Police have identified a suspect taken into custody Wednesday after police say he shot a 3-year-old girl, her mother and another woman shopping at a Smith's store on Wednesday.
The man arrested is 37-year-old Rufino Cervantes, according to a statement released Wednesday evening by the West Valley City Police Department.
All three females were shot in the leg, and are expected to recover, West Valley City Police said.
The girl's father, Hugo Padilla, said he and his family are in town from Las Vegas, for cancer treatment for daughter Esmeralda. She was transported to Primary Children's Hospital, he said, with two gunshots to the legs. His wife, Erica Ortega, suffered one shot to the leg, Padilla said.
Matt Elson, deputy chief of the West Valley City Police Department, said the women were also transported to area hospitals by ground ambulance.
Ortega and daughter Esmeralda were released from the hospital Wednesday evening. No information was available on the other woman who was shot.
Police say Cervantes fled the scene, at 4065 S. Redwood Road. Multiple officers and K-9s responded to the scene, searching in case the man might have hidden in any of three nearby apartment complexes — The Redwood Apartments, the Shadowbrook or Somerset Village.
Containment and a shelter-in-place order were lifted after a search failed to turn up the suspect. According to reports, Cervantes was subsequently found at the Shadowbrook apartments.
Police strapped the suspect to a gurney and took him to the hospital, and said in a statement that Cervantes had shot himself in the leg earlier.
"A male suspect was out in front of the store, and he walked up to the entrance of the store and proceeded to fire several rounds into the store," Elson said, prior to the arrest.
Padilla said since his family knows no one in Utah, he knows the shooting was random.
Shell casings were collected from the scene, to be processed as forensic evidence.
Gephardt Daily will have more on this developing story as information becomes available.