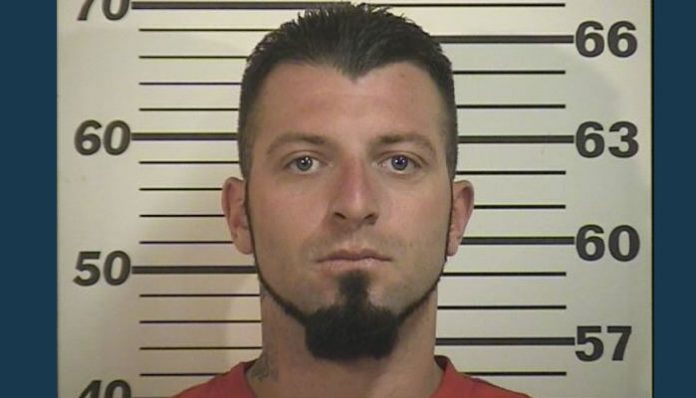 GRAND JUNCTION, Colo., July 26, 2016 (Gephardt Daily) — Authorities in Grand Junction, Colo., Monday night arrested a man charged with the murder of a Cedar City man.
Cedar City Police Department spokesman Jerry Womack said Mark Mair, 27, was arrested on a warrant for aggravated murder of 34-year-old Justin Hanna, as well as aggravated burglary and seven counts of felony discharge of a firearm.
Investigators also obtained information that lead them to believe that 19-year-old Elcha Hatch was the female who drove the getaway car.
Cedar City Police updated Tuesday morning in a prepared statement that the search for Hatch and Mair expanded to Grand Junction, Colo. They were located Monday night at approximately 9 p.m. by Grand Junction Police Department.
Hatch was arrested on a warrant for obstruction of justice, a second degree felony.
At this time, investigators are continuing to interview witnesses and process evidence. The motive for the murder is still under investigation.
Officers responded to reports of gunshots at 6:38 a.m. Sunday in the area of 515 North and 400 West, in the Reber Court trailer park in Cedar City. When they arrived, they found Hanna deceased inside the home. Officers say Hannah died from multiple shots from a .40-caliber handgun.
Besides a .40 cailber handgun, Mair was believed to have an additional handgun, an SKS rifle and a sawed-off shotgun.
Cedar City Police added it was believed that Elcha's mother, Michelle Partridge and Robert Schexnayder assisted both Mair and Hatch flee to Grand Junction. An "attempt to locate" was distributed to agencies along I-70 looking for Schexnayder's vehicle. The vehicle was located Monday evening near Green River Utah. Schexnayder and Partridge were taken into custody by the Utah Highway Patrol. They were held on arrest warrants for obstruction of justice, a second degree felony.