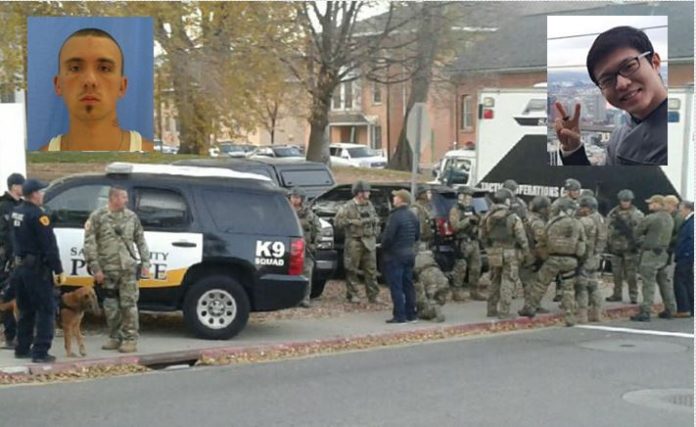 To see an updated story about Boutain's arrest, click here.
SALT LAKE CITY, Utah, Oct. 31, 2017 (Gephardt Daily) — New details have been released regarding Monday night's fatal shooting of University of Utah student ChenWei Guo and the manhunt for armed-and-dangerous suspect Austin Boutain.
Boutain and wife Kathleen — who is now in custody — are suspects in a Colorado homicide that occurred late last week, according to Salt Lake City Police Chief Mike Brown.
Colorado police learned of the homicide early Tuesday morning, after Utah law enforcement officials called and suggested a welfare check on the owner of the stolen truck, a 2004 Ford, connected to the Boutains. The Colorado victim was a 63-year-old man found deceased in his recreational vehicle. His identity has not yet been released pending notification of next of kin.
Brown said police no longer believe that Austin Boutain has access to the vehicle, which is being sought by police. The truck's Colorado plate number is 460 DZX.
Utah SWAT teams were scouring the area of Red Butte Canyon, where officers hope to locate Boutain and take him into custody. Air and ground teams were on the scene. Officers are spaced closely, searching on a grid established so they miss nothing.
Two snipers are overseeing the search teams for their safety. Armored vehicles also are on the scene. Boutain is believed to be armed with a hand gun.
According to police reports, Boutain, 24, had arrived in Utah two or three days before the shooting, and was camping in Red Butte Canyon with his wife when they had a domestic dispute.
Kathleen Boutain reported her husband's assault to police, who were preparing to respond when they got a call of shots being fired near the mouth of Red Butte Canyon.
Boutain had attempted to flee by carjacking a vehicle from Guo, an international student from China who had been in Utah since 2012, and had spent some of that time as a missionary in Provo for The Church of Jesus Christ of Latter-day Saints.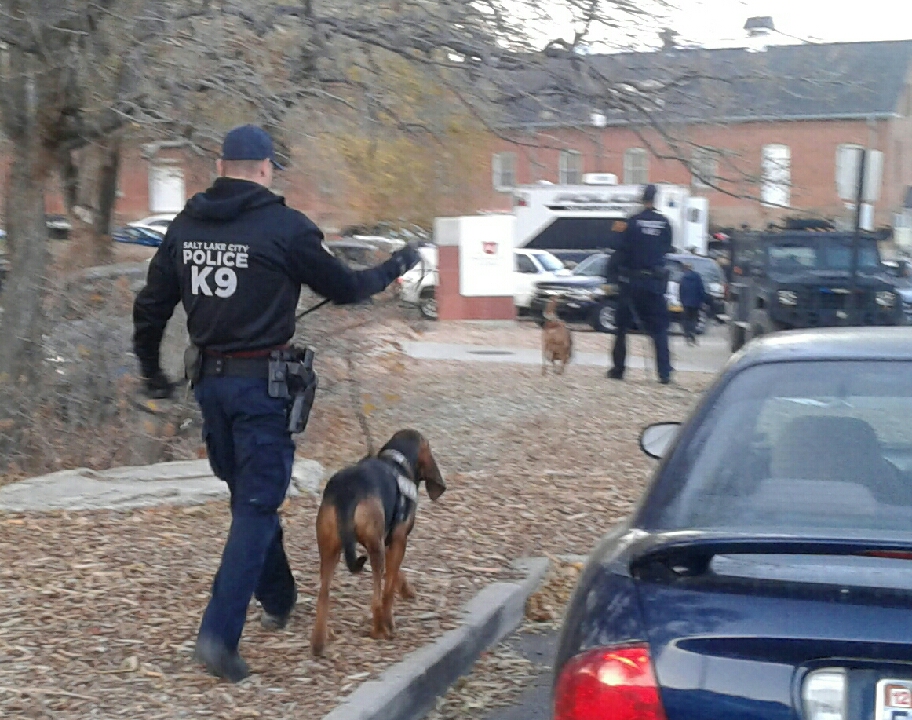 Police believe that Boutain shot Guo, a stranger to him, and announced late Monday evening that Guo had died from his injuries.
"The victim appears to have been in a car up Red Butte Canyon," said University of Utah Police Chief Dale Brophy. "He was in the wrong place at the wrong time."
A rifle was recovered in the vicinity of Guo's vehicle, but police are unsure if it was involved in the case, Brown said.
More than 50 law enforcement vehicles, several of them armored, quickly responded to the scene. An estimated 100 officers arrived from multiple agencies, and police dogs were brought in. SWAT also was on scene.
Anyone in the area from campus through Red Butte Garden was asked to shelter in place in the tweet, which was published at about 9:05 p.m. Monday.
A Utah Highway Patrol helicopter is at the scene to assist, as are agents from the FBI.
According to scanner communications, one man was taken into custody, but it was reported that he did not resemble the suspect as described by officers. Brown said Monday that several people discovered in the canyon overnight were found to be unrelated to the case.
At about 10 p.m., the University of Utah put out a second tweet, describing the suspect being sought as a white male in black clothing, who has a tear-drop tattoo on his face, and may be driving a forest green pickup with Colorado plates.
The photo of Boutain was shared later.
According to information released by United Press International, Boutain has been charged eight times in Marion County, Ala., since 2015 for crimes including theft, manufacturing of a controlled substance, attempt to elude police and failing to register as a sex offender.
University of Utah President David Pershing said in a letter Tuesday that although he is confident the campus is secure, "We have canceled classes today in respect of ChenWei and the impact this violent event has had on our campus community."
Pershing's letter said counseling would be available to international students and others who might want it.
"We have been in contact with ChenWei's family in China and they are understandably devastated by the loss of their son," the letter said. "We are working to bring them to Utah as soon as possible and will offer them all the assistance we can."
Brown said Monday that multiple tips have been called in stating that Boutain has been sighted elsewhere, but all have proved to be false, and led them to people with a resemblance to the wanted man.
Gephardt Daily will provide updated information as it becomes available.