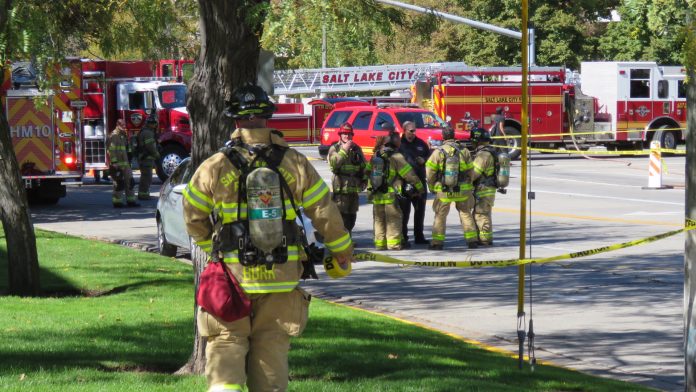 SALT LAKE CITY, Utah, Oct. 9, 2016 (Gephardt Daily) — Drivers were asked to avoid the area of 500 S. 700 East in Salt Lake City Sunday as crews responded to a possible ammonia leak at a meatpacking facility.
Salt Lake City Fire Department Captain Davin Halvorsen said that at approximately 11:20 a.m., crews received reports of an odor that smelled like anhydrous ammonia at the meatpacking business. Most meatpacking, poultry and food processing plants use thousands of pounds of anhydrous ammonia in their refrigeration systems.
"SLFD has a history with this address and we do know they use anhydrous ammonia in the refrigeration process and so we issued a hazardous materials response due to those reports of odors," Halvorsen said.
"HazMat teams assisted by local fire companies did indicate that there was a strong odor of anhydrous ammonia in the area. They established isolation zones, and we began the initial stages of a hazardous materials response. We have active atmospheric monitoring underway and we are not anticipating any additional evacuations or isolations at this time.
"Additional HazMat teams also responded to support the chemical protective equipment or the CPE entry and operations that are going to take place in the building as part of the strategy and tactics to control the situation."
Halvorsen said that particular business has been around for approximately 100 years in Salt Lake City, and they are a reputable business, but they did have a small release from their system approximately one month ago.
"They took great measures to update that system, everything is nicely labelled and it's an updated system, so we're all a little surprised there was an incident today, but we're going to work through it."
He said the owner is on scene to assist fire crews.
Officials did issue a shelter-in-place order for a handful of residents in the vicinity.
"Anhydrous ammonia is a toxic gas," Halvorsen said. "It can overcome the respiratory system very quickly, and cause unconsciousness or even death, it also has an explosive limit and can burn."
SLCFD tweeted at 5 p.m. that with ammonia returning to safe levels post-mitigation, units should be clearing the scene on 500 South within the hour.