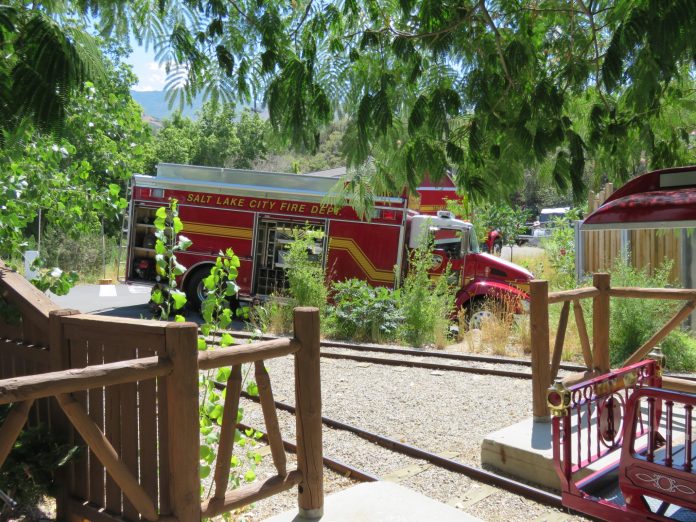 SALT LAKE CITY, Utah, Aug. 14, 2016 (Gephardt Daily) — HazMat officials were called to the Hogle Zoo late Sunday morning after several gallons of hydrochloric acid leaked in an area beneath the lion house, and caused coughing and dizziness in the employee who discovered it.
Hydrochloric acid is a clear, colorless, highly corrosive solution. Symptoms from breathing vapors of hydrochloric acid may include choking, chest tightness, weakness, shortness of breath and coughing up blood.
Salt Lake Fire Department spokesman Jasen Asay said his agency was called in just before 11 a.m. on a chemical spill.
"When our crews arrived, they talked with a Hogle Zoo employee who said he had found a small hydrochloric acid spill, about two or three gallons, and had tried to flush it down the drain, but closed the door to the room where it was located, and left," Asay said, adding the employee was evaluated on scene, and did not require transport to the hospital.
"We had a HazMat team that made an initial entry into the room where the incident occurred, and when they opened the door, they noticed a cloud and quickly closed the door."
Asay said that as of early afternoon, crews were suiting up to re-enter the room with protective clothing and breathing equipment on, and that the area downwind of the lion house had been evacuated as a precaution.
"We have closed off a tiny portion of the zoo right now, and our HazMat team is taking readings of the air to make sure it is safe," Asay said.
The Utah Department of Health was sending officials to assess the contaminated room as well, he said.
Brad Parkin, zoo marketing director, said all the animals appeared unhurt, although a few had been moved to a different location as a precaution. All animals remaining in the area had been moved to their outdoor display areas.
"All the animals in that area of the zoo, the lions, the primates, the great apes, they're fine, and other than that one individual, no reciprocal injuries occurred."
Parkin said hyrochloric acid is used in controlled amounts to keep the animal enclosure water clear.
Parkin said the zoo was never evacuated, and he didn't know how that rumor got started and widely reported.
Word of an evacuation was tweeted by the Salt Lake Fire Department.

"It was a minor incident that got blown up," Parkin said.
Asay reported later in a news release that some of the product was washed down a drain, but a large puddle with a depth of one-quarter to one-half inch remained in the 5-foot by 6-foot room.
"HazMat crews entered the building and neutralized the product by using soda ash. Once the product was neutralized, the small vapor cloud in the room disseminated.
"With the air level inside the room not dangerous, crews used electric fans to vent the air outside.
"Crews are working with a representative from the Salt Lake Valley Health Department to determine the most-appropriate way to dispose of the neutralized product."