VEYO, Utah, June 24, 2016 (Gephardt Daily) — The Saddle Fire in the Lloyd's Canyon area flared and began burning down a mountainside Thursday evening, leading fire crews to call for voluntary evacuations for residents of all of Pine Valley.
Washington County public safety officials and Saddle Fire managers lifted a mandatory evacuation order for Pine Valley residents at noon Thursday, but the fire flared again at approximately 6 p.m. Thursday.
The original evacuation order affected residents in the Lloyd Canyon area where the Saddle Fire spread to within a half of a mile of 185 structures, 100 of them homes.
The Saddle Fire was caused by a lightning strike on June 13 and has burned more than 800 acres.
The fire began last week and by Sunday, fire-fighting helicopters were able to dump 16,875 gallons of fire retardant to help slow the spread of the fire to the northwest.
Then, crews started having issues with drones risking the safety of everyone involved in the firefighting efforts. On Monday, a third drone was spotted and all aerial operations were indefinitely suspended causing the fire to double in size.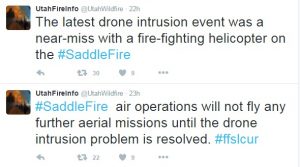 A $1,000 reward is being offered by the Washington County Sheriff's Office for information leading to the arrest of the owner of any drone hampering wildfire suppression efforts.
On Thursday night, officials updated they have no suspects or good leads on the drone incident.  "We are following a few tips, but we have nothing substantial at this time," said Shauna Jones, chief deputy, Washington County Sheriff's Office.