BREAKING NEWS: Sixty Hospitalized In Apparent Salt Lake City Food Poisoning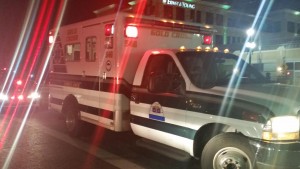 SALT LAKE CITY, UTAH – May 31, 2015 (Gephardt Daily) – Between 50 and 60 people had to be treated at Salt Lake City area hospitals Sunday night after what appeared to be a mass outbreak of food poisoning at a downtown homeless shelter.
[one_fourth]
[/one_fourth][three_fourth_last]
According to Jasen Asay, Salt Lake City Fire Department, medical personnel were called to the Road Home Shelter at 210 East Rio Grand around 9:30 p.m. where dozens of people were falling ill at both the men and women's facilities.
So many people fell ill in such a short period of time 45 first responders were dispatched to the scene, as were dozens of ambulances and even a bus.
As of 11 p.m. dozens of those who were sickened were still being treated at Valley hospitals.
The patients are described in fair to good condition.
The source of the illness has yet to be determined.