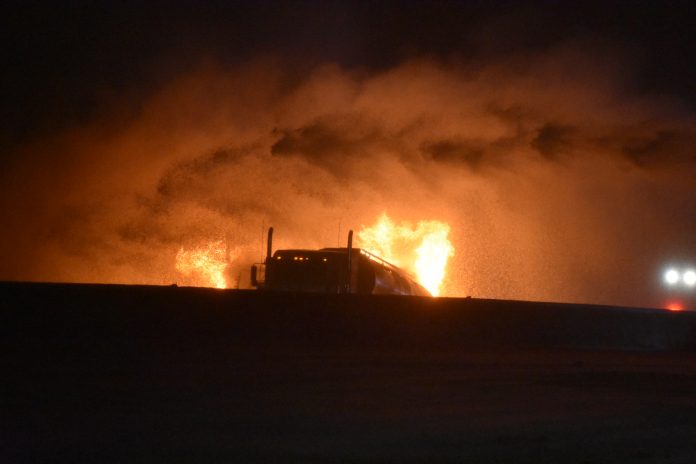 PARLEYS CANYON, Utah, Feb. 23, 2017 (Gephardt Daily) — A raging oil tanker fire killed one man and closed traffic in both directions on Interstate 80 near Parleys Canyon Wednesday night.
UHP Sgt. Brady Zaugg told Gephardt Daily the fire started about 10:30 p.m. when a westbound box truck collided with another truck hauling two full tankers of crude oil near the Salt Lake and Summit County border.
The double tanker carrying crude oil was in front of the box truck, officials added. The truckers had been communicating by radio, taking about the box truck passing the tanker. The explosion happened when the tanker rolled or slid backward and collided with the box truck.
The back tanker ruptured. Both of the twin-tankers caught fire and the blaze quickly spread to the cab of the box truck.
Witnesses say at one point the flames were leaping 50 feet in the air. The fire burned intensely for more than three hours as Unified firefighters struggled to suppress the flames.
The driver of the oil tanker escaped injury, but the driver of the box truck remained unaccounted for until 3 a.m when his body was discovered in the cab of his burned out semi.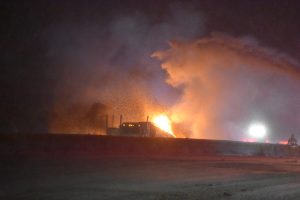 Sgt. Zaugg said once the fire was extinguished work crews began inspecting the road damage and hoped to have both lanes of traffic open in time for the Thursday morning commute. As of 10 a.m., two lanes of the roadway had been reopened.
(DEVELOPING)