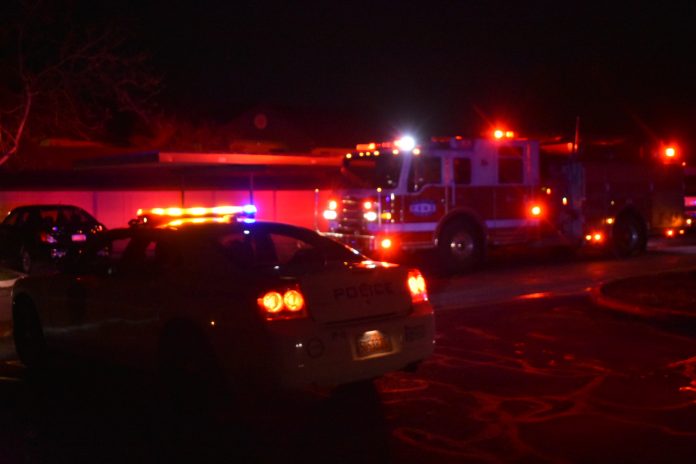 SOUTH SALT LAKE, Utah, April 10, 2017 (Gephardt Daily) — Police were at the scene of a shooting at 3765 S. Shadow Glen Lane (655 West) at about 9:30 p.m. Sunday.
South Salt Lake Police spokesman Sgt. Gary Keller said police initially were called to the Mountain Shadows Apartments for a medical problem with an elderly man who had passed away.
"While officers were here," Keller said, "they heard more than one gunshot … that resulted from an argument that happened in the parking lot."
He identified the victim as 37-year-old Tegan Robbins, whose last known address is in Sandy. Robbins is in serious condition, Keller said, with a "superficial gunshot wound to the head." He was transported to the hospital for observation.
Robbins remained hospitalized Monday, in stable condition, and may be released from the hospital later today.
Detectives are still trying to sort out the details of the altercation in the parking lot. Keller said Robbins told officers he doesn't know who his assailants were, and police don't yet know why Robbins, being from Sandy, was in the Mountain Shadows parking lot. The investigation is ongoing, and officers will be back in the morning to gather more information.
Keller told Gephardt Daily that multiple cars raced out of the parking lot after the shooting, but it isn't known if they had any connection to the incident or if they were simply leaving the complex after hearing the shots fired.
He also stated that it's too soon to say whether the shooting is gang-related.
Anyone who may have witnessed the shooting, or who has any information about the incident, is asked to call South Salt Lake dispatch at 801-840-4000. Keller emphasized that callers can remain anonymous.
Gephardt Daily will have more on this developing story as information becomes available.