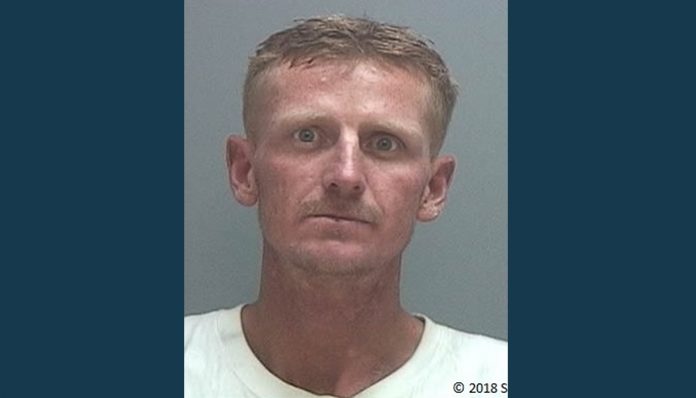 HERRIMAN, Utah, April 11, 2018 (Gephardt Daily) — An armed suspect has been taken into custody following a SWAT standoff in Herriman in the area of 13351 S. 7300 West Wednesday afternoon.
The suspect has been identified as Wilford Lincoln Hoglund, 35, the Unified Police Department said in a tweet. Charges against Hoglund are pending, UPD added.
SWAT was called to the area at about 12:15 p.m. after Hoglund was seen breaking out windows of a home, UPD Lt. Brian Lohrke told Gephardt Daily. Officials were also told he was attempting to start a fire in a shed on the property, which allegedly belongs to Hoglund's parents.
The man was safely taken into custody at approximately 2:30 p.m. and SWAT teams were securing the residence.
"We got here and the male ran into the house, we believe that his family owns the house, not sure if he lives at the house, or is allowed to be at the house" Lohrke said when the standoff was still underway.
"We have family members coming to the scene right now, coordinating with detectives on trying to figure that out. In the meantime, we have set up a containment position around this house. The male came out and threatened our officers with a firearm, threatened to shoot our officers if he was not able to see family.
"We want to be able to resolve this situation as peacefully as we can and we believe the family is going to be the best route to that," Lohrke added.
Surrounding areas were being asked to shelter in place, in a basement if possible. Herriman City added in a tweet that drivers were being asked to use an alternate route or avoid the area altogether.
In addition, Butterfield Canyon Elementary, 6860 W. Mary Leizan Lane, was placed on a lockout at the request of law enforcement, as a precautionary measure, Jordan School District tweeted. The tweet added that all students are safe.
Gephardt Daily will update this developing story as information is made available.
An armed suspect has been taken into custody following a SWAT standoff in Herriman in the area ...