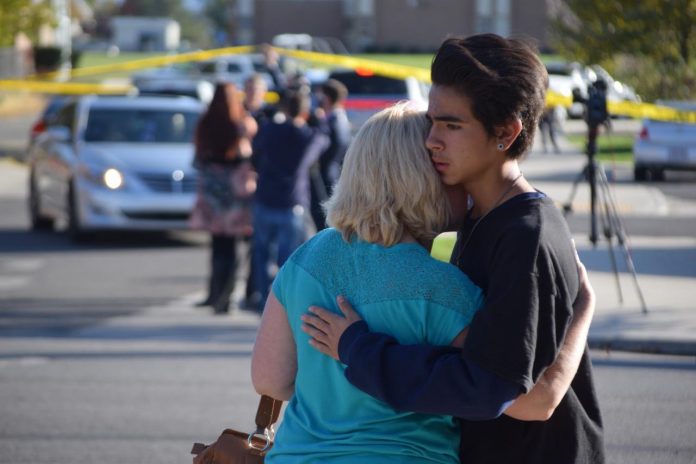 SANDY, Utah, Oct. 25, 2016 (Gephardt Daily) — The 16-year-old boy shot Tuesday outside of Sandy's Union Middle School is expected to live, according to the school's principal.
Kelly Tauteoli said she last heard an update on Tuesday night, and "… he was expected to survive," she said.
A source close to the family, who asked not to be identified, told Gephardt Daily that the victim was shot in the neck and face. As of Tuesday night, the 16-year-old was listed in critical but stable condition.
The origin of the gun used in the shooting and how the juvenile obtained the gun are still being investigated by detectives, Sgt. Dean Carriger from Sandy Police Department said Wednesday afternoon.
Carriger said the incident occurred at approximately 3 p.m. Tuesday, just as school was ending for the day. Two juveniles got into an argument on the north field of the school, which led to the shooting, Carriger said.
The 14-year-old suspected shooter has been booked into juvenile detention on three first-degree felony charges: attempted murder and two counts of discharge of a firearm with intent to cause bodily harm. The suspect's name will not be released because of juvenile status.
The suspect is a student at Union Middle School and the victim is a student at Hillcrest High School in Midvale, said Jeff Haney, a spokesman for Canyons School District.
Carriger said the area of the school, at 615 E. 8000 South, was quickly secured after an initial lockdown, and officers conducted interviews with dozens of witness. Additional witnesses are still coming forward. Information provided indicates the two juveniles had been involved in a conflict and they were going to meet after school. The specifics of their conflict and purpose of their meeting are still being investigated.
In an interview with KSL Radio, Tauteoli said her school is quiet today.
"It has been quite calm," the principal said. "We had maybe 15 students who didn't come to school today (out of 900). Kids are probably processing, and we totally understand that."
Extra counselors are on hand, and there's an increased police presence at the school. Tauteoli said that Wednesday will probably be the safest day the school has ever experienced.
Students who want to are visiting counselors, she said. Before school, teachers met with administration to talk about what had happened, and to create talking points.
Tauteoli said her teachers have reported seeing social media posts saying the school has a problem with gang activity.
"We wanted our message to be out there that this is just not the case. We do not have a gang problem."