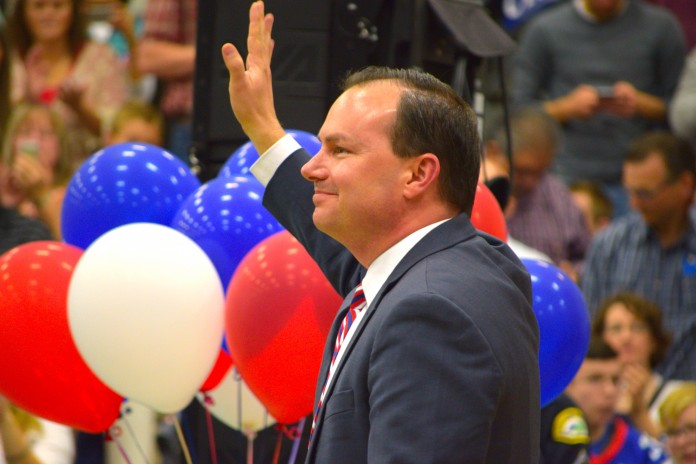 WASHINGTON, D.C., July 17, 2017 (Gephardt Daily) — Utah Sen. Mike Lee announced Monday that he does not support the current version of the Better Care Reconciliation Act and will vote "no" on the Senate health bill.
"In addition to not repealing all of the Obamacare taxes, it doesn't go far enough in lowering premiums for middle class families; nor does it create enough free space from the most costly Obamacare regulations," Lee said in a statement issued Monday.
Lee's concerns about BCRA were echoed by Kansas Sen. Jerry Moran, who stated on his website Monday:
"We should not put our stamp of approval on bad policy … We must now start fresh with an open legislative process to develop innovative solutions that provide greater personal choice, protections for pre-existing conditions, increased access and lower overall costs … "
With these announcements, four Republican senators now oppose bringing the bill to the Senate floor for debate, leaving Republicans short of the votes needed to pass their legislation and bring an end to Obamacare. All of the Democratic senators have already opposed the measure.
In the face of this opposition, Majority Leader Mitch McConnell late Monday night issued a statement of his own, saying the Senate should vote to repeal the Affordable Care Act even without a replacement for it. The statement reads:
"Regretfully, it is now apparent that the effort to repeal and immediately replace the failure of Obamacare will not be successful.
"So, in the coming days, the Senate will vote to take up the House bill with the first amendment in order being what a majority of the Senate has already supported in 2015 and that was vetoed by then-President Obama: a repeal of Obamacare with a two-year delay to provide for a stable transition period to a patient-centered health care system that gives Americans access to quality, affordable care."
President Donald Trump clearly favors this tactic. On Monday evening, he tweeted, "Republicans should just REPEAL failing ObamaCare now & work on a new Healthcare Plan that will start from a clean slate. Dems will join in!"