WEST JORDAN, Utah, Dec. 14, 2017 (Gephardt Daily) — West Jordan Police responded to the scene of a possible child abduction Thursday morning.
The incident occurred outside an apartment complex in the area of 3951 Serenity View Drive, at approximately 7:30 a.m., West Jordan Police Officer Scott List told Gephardt Daily.
"We had a report that a 10-year-old boy thought he saw an altercation," List said.
The boy said he saw two males and a juvenile female, and described the girl as being Caucasian, between 12 and 17 years old with blondish-brown hair. There is no description of the two men.
"He said that they were arguing and she was screaming 'No,' and they were pushing her into a large black van," List said. "They were able to push her into the van then one of the males got into the van and drove away, and the other male got into a car right next to it and drove away."
It's not known who the girl or the two men are, or how they're related to each other. There are also no reports of anyone missing at this time, or any reports of altercations between parents and a girl that age.
"We're hoping this was less than what the witness says it is, but we have to treat it as the worst case scenario that it's a possible abduction and that's how we're treating it at this point," List added. "If it's an altercation between parents and a child, we usually get a call somewhere and we can find out who it is, in this case, everybody was gone, we only had one witness, we didn't have a license plate or a real great description to follow up on and that's why we have to treat it the way we are, because we've got limited information."
List said that anyone who was in the area, or even involved in the altercation and can explain what happened, is asked to call the WJPD on 801-256-2000.
"If it is something innocent we can take care of it and we can investigate what we need to at that point," List said. "If it's something worse we hope somebody will call us."
He said officers have knocked on every door in the apartment complex and nobody had information and it does not appear at this time that there are surveillance video or pictures of the incident.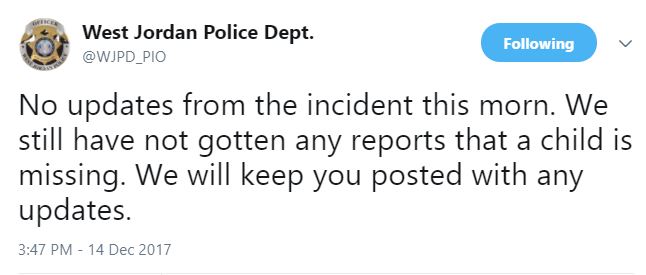 Just before 4 p.m., the West Jordan Police Department tweeted that no reports have come in of a missing child.
Gephardt Daily will have more on this developing story as information becomes available.