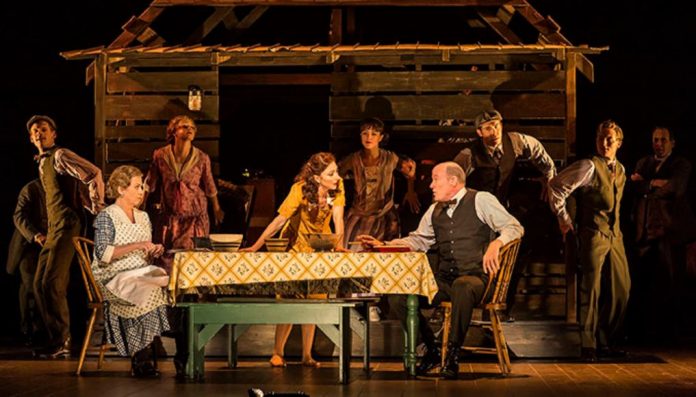 SALT LAKE CITY, Utah, Jan. 9, 2018 (Gephardt Daily) — In the past two years, actress Maddie Shea Baldwin has found herself tasked with understudying and performing multiple roles for a new Broadway musical, consulting with creators Steve Martin and Edie Brickell, and now playing the character of Margo on the Broadway national tour.
Her whirlwind journey brings her to Salt Lake City this weekend for the regional premiere of Martin and Brickell's "Bright Star," which plays at Simmons Pioneer Theatre Friday through Jan. 27.
Baldwin has come a long way since her Indiana University graduation in 2015 and baking free-form four-layer brownies with classmates.
"I can't believe I left that on my resume," Baldwin told Gephardt Daily, laughing before attempting to steer the baked goods conversation back to the show.
"It has been a whirlwind two years," she said. "It's pushed me to grow up really quick. I've learned so much in such a short time."
"Bright Star" tells the story of a small town Southern country girl turned newspaper editor. Alice narrates her own story of loves and losses in two time periods, 1944 with flashbacks to 1923.
In the earlier period, Alice (played by Carmen Cusack, who originated the role) falls for a hometown boy, Jimmy Ray (Patrick Cummings), but circumstances force them apart.
In the later period, Alice is well into her newspaper career, and meets returned serviceman Billy (A.J. Shively), who is from her home town and who wants to write articles. Waiting behind for Billy is his childhood friend Margo (Baldwin), who harbors a longtime crush.
The story is told simply, with heartfelt words and homespun music, bluegrass and banjos.
Baldwin said a high point of her acting experience was the chance to work with Martin and Brickell, beginning well before the show was complete.
"We rehearsed with Steve and Edie for a month," Baldwin said. "Watching them come up with things on the spot was the most fun. They would listen to things that people want to change and adapt to the cast.
"It was insane to watch them develop songs. She would start, and he would riff, and she would start writing words. The next day, there was a new song for the show."
Baldwin said what she enjoys about Brickell and Martin is reflected in the musical.
"I love how honest and genuine the show is," she said. "And we have these funny jokes that Steve put in."
Those help lighten a story that has its difficult moments.
"It's definitely a hard journey to watch, but so rewarding at the end," Baldwin said. "There's something so redemptive and beautiful at the end. It's definitely worth it. The music is so beautiful. It's true Americana, and there's a live band on the stage."
One last question: What's the brownie recipe?
"Oh. That's a college thing, and it's not exactly a recipe," Baldwin said, laughing. "We decided we had to make something ridiculous, and it's so easy. It lasts for days. You only need a little piece."
The four-layer brownie begins with chocolate chip cookie dough — the stuff in the tube works fine, Baldwin said. You grease a rectangular baking pan, then press the dough into an even layer.
Next comes a layer of crushed Oreo cookies, and on top comes a generous drizzling of caramel sauce. Baldwin uses the bottled from the store.
The top layer is the actual brownie part, made from either a tube of brownie dough or a powdered mix, adding an egg and oil, or whatever the box says to add, and stirring. Spread it evenly, then put it in an oven preheated to whatever temperature the tube or box said. This is an inexact science.
But expect to bake it a little longer, because it is thicker than either the tube or box wrapper could have anticipated.
"I double check as I go," Baldwin said. I think maybe 30 or 40 minutes. I'm not a timer person."
Then cool and enjoy.
"It's a piece of heaven," Baldwin said. "You should give it a go."
For full enjoyment, have a serving of four-layer brownies before or after seeing "Bright Star." For more information or for tickets to the musical, click here.