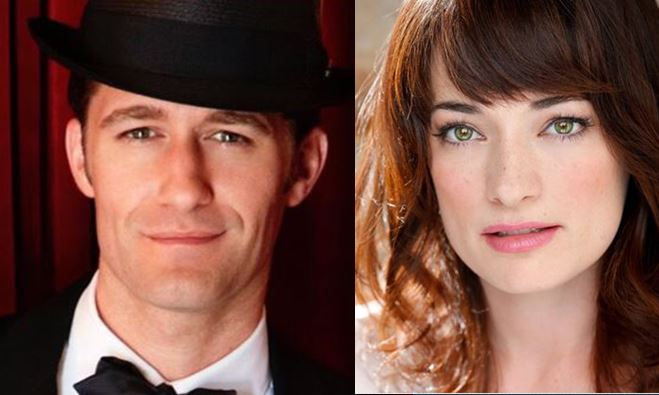 SALT LAKE CITY, Utah, May 31, 2018 (Gephardt Daily) — Broadway stars Matthew Morrison and Laura Michelle Kelly will sing with the Mormon Tabernacle Choir in concerts to celebrate Pioneer Day, the LDS Church announced Thursday.
The duo will appear in concerts at 8 p.m. July 20 and 21. Tickets for the concert are free and will be distributed on a first-come, first-served basis beginning at 10 a.m. Mountain daylight time on June 5, 2018, through lds.org/events or by phone at 801-570-0080.
The summer concerts featuring music by the choir and orchestra have been a long-standing tradition to honor the Mormon pioneers who arrived in the Salt Lake Valley July 24, 1847.
The concerts will serve as a reunion for Morrison and Kelly, who starred opposite each other in the Broadway musical "Finding Neverland," where Morrison played the role of J. M. Barrie opposite Kelly, who appeared as Sylvia Llewelyn Davies.
"Matthew Morrison and Laura Michelle Kelly are extraordinary performers who have a dynamic chemistry onstage that will delight our audiences," said Ron Jarrett, Mormon Tabernacle Choir president. "We know they will bring down the house when they perform with the choir and Orchestra at Temple Square."
Morrison is an actor, singer and dancer who has been recognized for his work on stage and screen with Tony, Emmy and Golden Globe Award nominations. He is most well-known to television audiences as Mr. Schuester in the musical comedy series "Glee."  In 2012, Morrison hosted and narrated the PBS special titled "Oscar Hammerstein II — Out of My Dreams," which focused on the Broadway producer's life and career.
Kelly is a Laurence Olivier Award-winning actress and singer for her star-making performance as Mary Poppins in the London stage production. Kelly has performed in numerous London musical productions as well as on radio and TV and in concert appearances at Royal Albert Hall, Hampton Court Palace, the Royal Opera House and Buckingham Palace.
The choir will also welcome back Oscar "Andy" Hammerstein III, grandson of the famed lyricist and music theater producer Oscar Hammerstein II, who will join the choir and orchestra as the narrator of this special concert focusing on the Broadway contributions of his family.
Each patron may request four tickets, and admission is open to those ages eight and older. Patrons without tickets are encouraged to join the standby line by the flagpole on Temple Square for last-minute seating, which is often available.
The concert will be live streamed on mormontabernaclechoir.org at 8 p.m. on Saturday, July 21. It will also be carried live over the Church satellite system and aired on BYUtv.
Morrison and Kelly will also appear on the Sunday, July 22, "Music and the Spoken Word" broadcast. No tickets will be required for that event, which will be held in the Conference Center at 9:30 a.m. Patrons should be in their seats by 9:15 a.m.