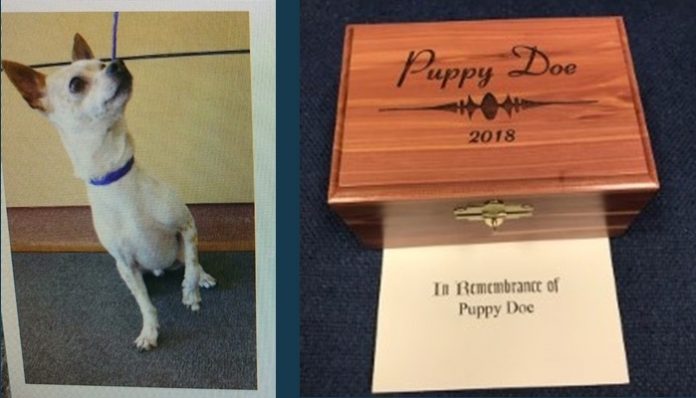 PLEASANT GROVE, Utah, Aug. 30, 2018 (Gephardt Daily) — A local business donated cremation services and a commemorative box for the ashes of a dog that was found deceased along with his owner in a Pleasant Grove home earlier this month.
Pleasant Grove police found a body inside a residence in the area of 100 N. Main St. on Aug. 21, according to the PGPD Facebook page.
According to information from the department, the discovery happened in the course of a zoning investigation. Due to circumstances including the department's history with the house and evidence found at the scene, the bomb squad was called in to make sure the house was secure.
The area was cleared, and declared safe, according to the post.
Prior to the "all clear," several neighbors were evacuated as a precaution, as was the John Hancock Charter School.
It was subsequently declared that no foul play was suspected in the man's death.
Pleasant Grove Police Department posted Thursday evening on Facebook that the man was determined to have been deceased for an extended period of time.
"Officers also located a deceased dog chained in the yard of the property," the post said. "Through some investigation, our animal control officer was able to determine the dog was a male Chihuahua which had been adopted from a shelter."
The post said that local company Pet Reflections, based in Pleasant Grove, covered the cost of cremation services and donated a commemorative box for the pet's ashes. 
"As humans, we largely get to make our own decisions," the post said. "Unfortunately, animals are totally dependent on us for their health and survival. We hope 'Puppy Doe' aka 'Pee Dee' is barking in a much better place now. Please remember to bring your pets indoors during extreme weather (cold and heat) and provide plenty of fresh water and shelter when they are outside."
The deceased man has not been publicly identified.