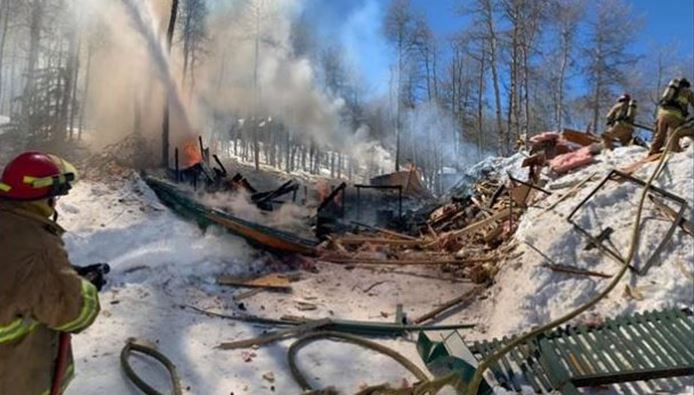 WASATCH COUNTY, Utah, March 17, 2019 (Gephardt Daily) — A cabin explosion in the rural Timber Lakes area Sunday afternoon blew debris at least 200 feet, officials said.
"When we arrived the roof had collapsed and debris from the explosion was blown at least 200 feet around the cabin," a 3 p.m. Facebook post from Wasatch County Fire said.
No one was home at the time and no one was injured, the post said.
An earlier post from Wasatch County Sheriff's Office said that multiple callers reported the explosion to 911. The cabin is in the area of 10970 Cottonwood Lane. The Timber Lakes subdivision is about eight miles east of Heber City.
"Please avoid the area so crews can respond and access the home," the post said.
The cause of the explosion is under investigation.
The incident comes just over one month after another home explosion in the same subdivision, which critically injured a woman.
That explosion occurred on Feb. 14 just before 7 p.m.
A woman with her four children had arrived at the cabin to spend the weekend, and as she entered through the garage she noted a gas smell and entered the home to check it out, a statement from the Wasatch County Fire Department said.
"The children remained in the car," the statement said. "After several minutes, there was an explosion. The neighbors heard the explosion and noted flames coming from one side of the home."
Two male neighbors arrived and found the woman trapped under a beam. They were able to lift the beam off of her and pull her out to safety.
Fire crews arriving on the scene found the home fully engulfed in flames.
The woman was transported to Heber Valley Hospital suffering from burns and trauma from the collapse of the structure, and later by Life Flight ground transport to Salt Lake City.
Gephardt Daily will have more on this developing story as information is made available.