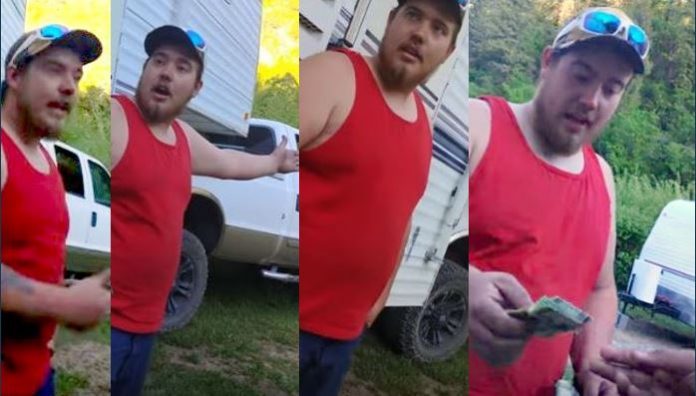 LOGAN, Utah, Sept. 13, 2019 (Gephardt Daily) — A Cache County judge has ruled that enough evidence exists for Wyatt Pack and four fellow campers to go to trial after a May 27, 2018, altercation over a campsite in Blacksmith Fork Canyon.
Part of the action was caught on video, which was shared on social media and went viral. Victim Jose Caballero can be seen telling Pack that he and his family are unable to move their trailer due to mechanical problems with the truck they used to bring the trailer in.
Pack is shown ordering the family to vacate the space, and using an excited tone and graphic language.
According to Pack's probable cause statement, Caballero later told officials that he saw Pack resting his hand on a handgun he had in his waistband. In addition, Caballero said at least three of the other campers were wearing visible handguns, and one raised a shirt to reveal the gun.
The probable cause statement also says Pack told Caballero he would burn the family's camper to the ground if it could not be moved.
In the video, Pack told the family he and the people with him would move the trailer, "But you're going to pay us for it. How much money do you got?"
The family, from Tremonton, came up with $45, which Pack took. On the video, Marie Caballero, Jose's wife, can be heard speaking in Spanish using calming tones to talk to the couple's sons, then ages 8 and 15, at least one of whom later began crying.
Pack is charged on suspicion of:
Riot, a third-degree felony
Assault, a class A misdemeanor
Theft by extortion, a class A misdemeanor
Assault, a class B misdemeanor
Threat of violence, a class B misdemeanor
Threat/use of a dangerous weapon in a fight, a class C misdemeanor
As of Friday, the video had been viewed nearly 350,000 times on its original YouTube page, and additional times on news sites.
The others in the case face the following charges:
Cory B. Durney: Riot and aggravated assault, both third-degree felonies; and criminal mischief, damage to property with intent to defraud, a class A misdemeanor
Rikki J. Durney: Riot, a third-degree felony
Braxton Jade Haderlie: Riot, a third-degree felony; threat/use of a dangerous weapon in a fight, a class A misdemeanor
Samara Lee Nielsen: Riot, a third-degree felony; threat/use of a dangerous weapon in a fight, a class A misdemeanor
All five defendants have pleaded not guilty to all charges. An additional camper, who was underage, was not charged.
The preliminary hearing for the trial has been set for July 2020.
The video can be viewed at the bottom of this page. Be aware that it contains graphic language. Pack can be heard cursing 17 times in the first 4:30 minutes of the video, while the Caballero family remains even-toned and respectful.
Gephardt Daily will have more on this story as information becomes available.