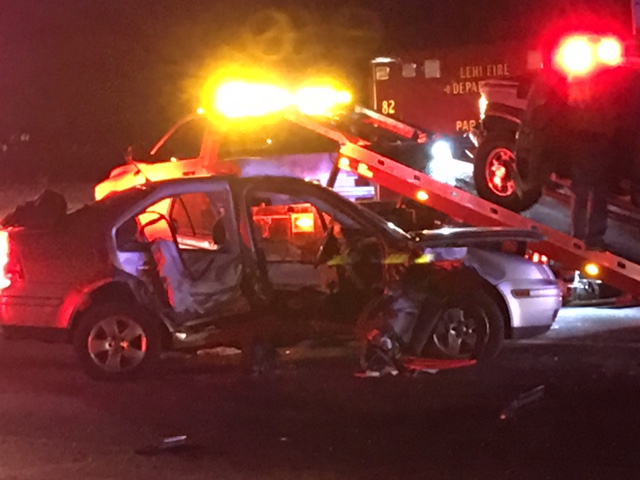 LEHI, Utah, Feb. 26, 2016 (Gephardt Daily) — One woman was transported to hospital Friday night after the car she was traveling in was broadsided by an SUV, police said.
Lehi Police Department Sgt. Bart Smith said the SUV was thought to be going over the speed limit when it hit the four-door car at about 8 p.m. on Ashton Boulevard.
Smith said of the incident: "A Chevy Suburban was traveling in a northeasterly fashion on 4300 West, and ran the stop sign. A vehicle that was traveling east on Ashton Boulevard was broadsided by that Suburban.
"It appears the Suburban was going faster than the posted speed limit, but we're not going to know that for sure until the accident investigation is complete."
Smith said the woman in the car's front passenger seat had to be extricated and was transported to Intermountain Medical Center in Murray. Her condition is not yet known, but her injuries are thought to be non-life-threatening.
The driver of the passenger car and the three people traveling in the Suburban were not injured.
Smith said the driver of the Suburban is likely to be cited for exceeding the speed limit.
We will have more information on this developing story as it becomes available.