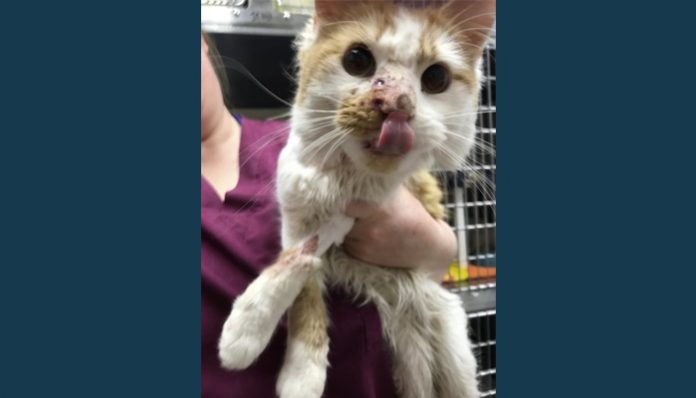 MILLCREEK, Utah, March 1, 2017 (Gephardt Daily) — A $5,000 reward is being offered for information leading to the arrest and conviction of those responsible for shooting a 4-year-old orange tabby cat that has been nicknamed Robin Hood.
The Humane Society of Utah (HSU) announced Wednesday it is offering the reward for information about the incident, which happened in the Millcreek area.
The HSU said in a news release it hopes the reward assists the Salt Lake County Animal Services in obtaining information required to identify and charge the responsible assailant.
Robin Hood, the name given to him by Animal Services staff, was found by a Millcreek resident in the area of 1300 East and 3300 South Sunday. According to a statement by Animal Services, the cat was found with a Crosman pistol bolt lodged in his neck and wounds on the face caused by a shot from a pellet gun.
"The fact that this cat suffered for several days with these unwarranted injuries is both gruesome and heartbreaking," said Deann Shepherd, HSU representative. "Torturous acts of violence against our companion animals in inexcusable and the person responsible needs to be held accountable. We hope this reward offers an incentive for someone to come forward with information."
Anyone who has any information as to who may have shot Robin Hood is asked to call 801-743-7045 and help Animal Control officers solve this case.