COTTONWOOD HEIGHTS, Utah, Feb. 9, 2017 (Gephardt Daily) — Utah Rep. Jason Chaffetz said he wanted to hear from his constituents.
Thursday night he got his wish.
And then some.
Enter Daniel into the lion's den.
The meeting at Brighton High School started with Chaffetz being met by a chorus of boos and hisses not heard in these parts since Michael Jordan put the Utah Jazz to sleep with a 20-foot jump shot to win the 1998 NBA championship.
From there it was pretty much was all down hill.
The meeting was supposed to address constituents' concerns about federal land use, but most in the crowd thought the meeting had less to do with Chaffetz's stance on the management of federal lands than it did his personal character.
Chaffetz, after all, was the family man who rebuked Donald Trump after the infamous video surfaced featuring the future Commander-in-Chief talking about grabbing the genitals of women he found attractive.
"I'm out. I can no longer in good conscience endorse this person for president," Chaffetz told Fox 13 at the time. "It is some of the most abhorrent and offensive comments that you can possibly imagine. I can't tell the good people of Utah that I endorse a person who acts like this. My wife and I, we have a 15-year-old daughter, and if I can't look her in the eye and tell her these things, I can't endorse this person."
To most in the crowd, the statements set the stage for the granddaddy of all flip-flops. Chaffetz not only voted for Trump, he redoubled his efforts to sink the candidacy of Hillary Clinton, doggedly investigating potential wrongdoing about her private e-mail server — a quest he pursues to this very day.
"By far, Donald Trump was a better choice," he said, in an apparent attempt to bait the crowd. "There was no possible way I was ever going to vote for Hillary Clinton."
The throng howled in protest.
"Don't be swearing at me," Chaffetz said to one questioner.
"There is so little decency here," he told the crowd at another point, after members booed a story about his parents' cancer deaths, prompted by a woman's question about cancer research funding. "I am trying to convey to her that I care about this, I care deeply and personally, and it's my family."
But during most of the one-hour meeting, which had been touted as lasting two full hours, the 3rd District Republican responded to the outpouring of rancor by suggesting the crowd relax and allow him to respond.
"I'm trying to answer the question," Chaffetz said, exasperated. "Folks, I get one sentence in and you tell me I'm not answering the question … I understand that you don't agree with me, but we've got to be able to talk."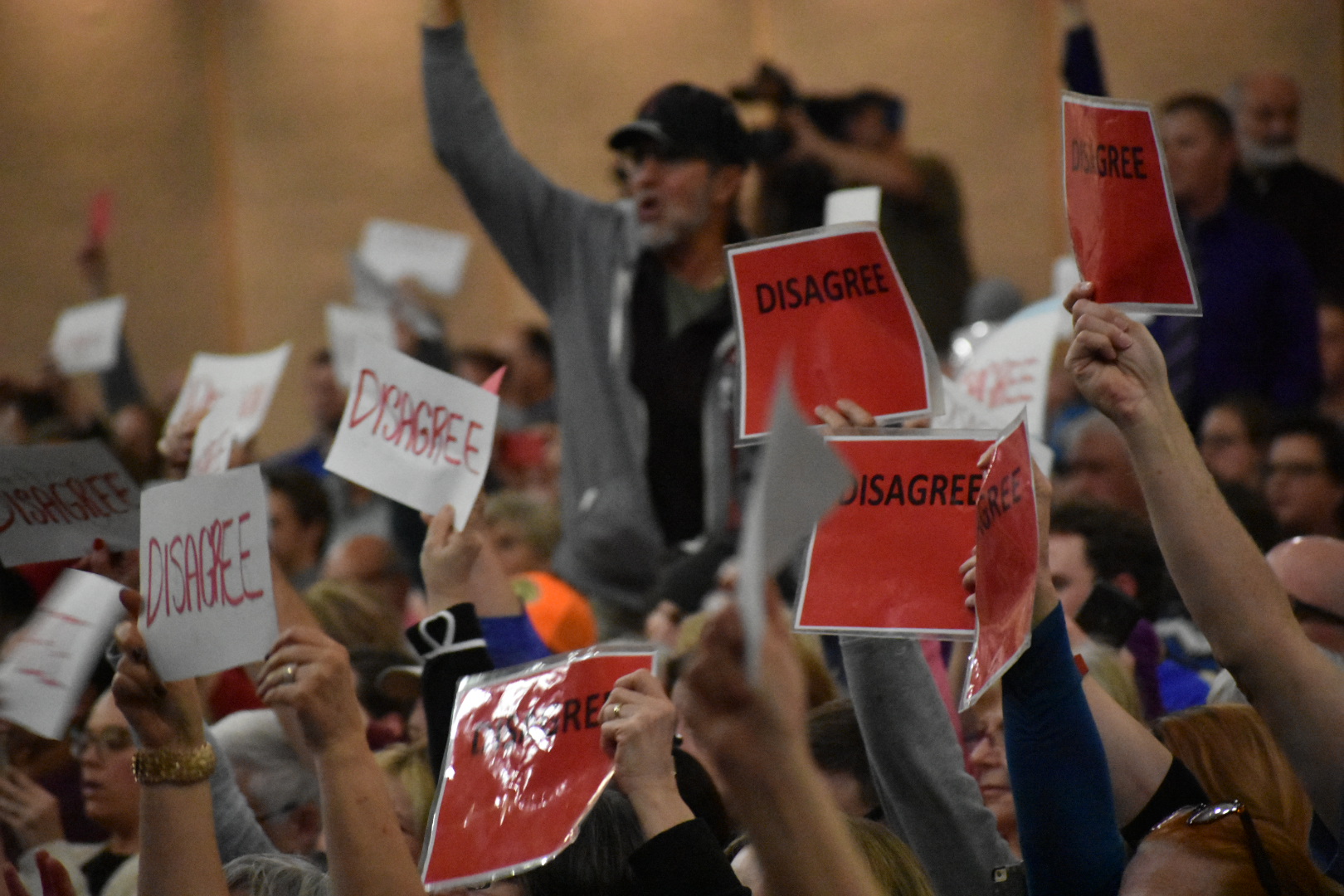 The bulk of the questions seemed to focus on why Chaffetz, chairman of the powerful House Oversight Committee, was failing to investigate perceived ethical breaches and conflicts of interest by President Donald Trump.
Examples include:
Trump's blasting of Nordstrom department stores for dropping daughter Ivanka's fashion line, which will cost her profits.
The use of Trump properties for meetings and news conferences, drawing attention and potential financial gain to those holdings.
Candidate Trump's refusal to release his tax returns, a longstanding practice with which all other candidates complied.
"Let me tell you something you're really not going to like," Chaffetz told the crowd. "The president, under the law, is exempt from conflict of interest laws."
Chaffetz, asked if he would investigate for financial wrongdoings, said he didn't care to "go fishing" without any evidence of a problem.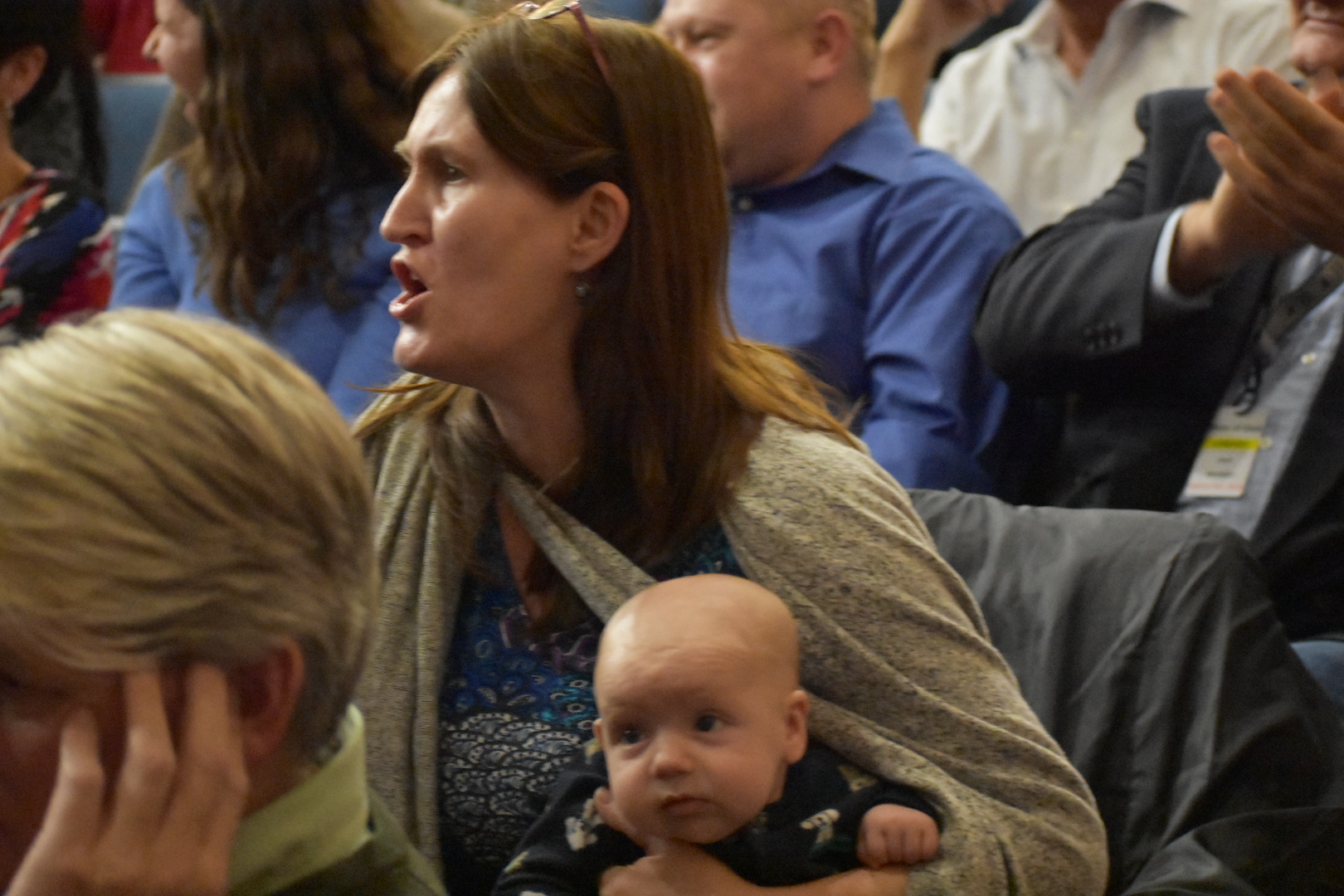 Asked about his support of rescinding Bear's Ears status as a national park, Chaffetz said he enjoyed national parks, but favored a "balance," and noted that not all Native Americans wanted the land protected.
When questioned about Trump's temporary ban of immigrants from seven predominantly Muslim countries, Chaffetz talked about his recent meeting with members of Utah's Muslim community, and joked that, "Mormons, as much as anybody, they ought to know what it's like to be a religious minority." Chaffetz is a member of The Church of Jesus Christ of Latter-day Saints.
After indicating he would take a few last questions, Chaffetz did so, then told the crowd, "May God bless you. May God bless the United States."
He slipped behind the auditorium curtain and disappeared into the night.