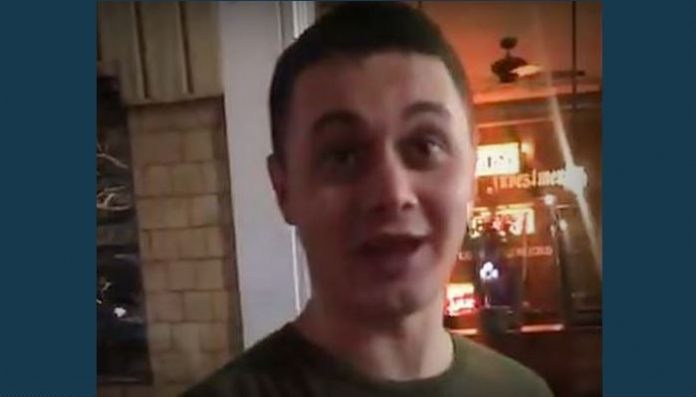 SALT LAKE CITY, Utah, Feb. 22, 2019 (Gephardt Daily) — The man captured on cellphone video during a confrontation in downtown Salt Lake City has been charged with assault and threatening with a dangerous weapon in a fight or quarrel.
According to a news release issued by the Salt Lake County District Attorney's Office, charges were filed against Carlo Alazo for his alleged attack against Salvador Trejo and Kelly Moore, along with a group of people who were with Trejo and Moore as they walked near 341 S. Main Street on Tuesday night.
A probable cause statement filed in 3rd District Court said the attack was triggered when, "The defendant, Carlo Alazo, approached Trejo and Trejo's friends while making 'homophobic comments' and 'racial comments toward them.'"
"Trejo began filming Alazo with a cell phone," the statement said. "Alazo then hit Trejo's arm, knocking Trejo's phone out of his hand while he was still recording. Alazo then pulled out a small 'butterfly type' knife and pointed the knife blade in Trejo's direction, but the knife slipped out of Alazo's hand," the statement said.
After the video went public, Alazo contacted police himself, the statement says. An officer obtained a copy of Alazo's Florida driver's license, and confirmed the pictures matched.
If convicted, Alazo faces up to one year in jail on the weapons charge, a type A misdemeanor. He also could be sentenced up to six months in jail on each assault charge, a type B misdemeanor.
The District Attorney's Office thanked the Salt Lake City Police Department "for their diligent and dedicated professionalism in the investigation of the case." The DA's office also thanked "members of the community for their assistance in getting information to the police department and helping bring these charges forward."
As of Friday afternoon, Alazo had yet to be booked into the Salt Lake County Jail system.