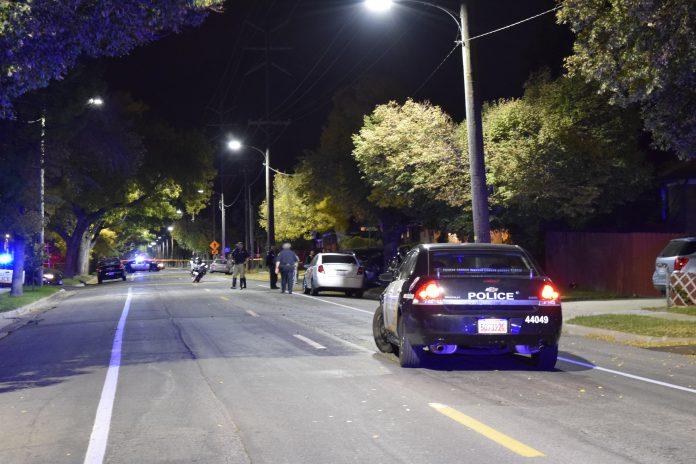 SALT LAKE CITY, Utah, Oct. 12, 2017 (Gephardt Daily) — A 4-year-old child died late Wednesday night when the vehicle in which the child was riding crashed into a tree at 2700 South and Chadwick Street (1410 East).
Salt Lake City Police Lt. Dave Cracroft said the call about a car-tree traffic accident came in shortly before 10 p.m.
Cracroft said an SUV was heading west on 2700 South when it crossed the eastbound lanes and crashed into a tree in front of a residence.
He said it does not appear that speed was a factor in the crash, but the exact cause has yet to be determined.
"The driver had some minor injuries," Cracroft said. "There was a small child in the back that is now deceased."
He confirmed that the driver is the mother of the child, and she and the child were the SUV's only occupants.
He said neighbors in the immediate area heard the crash and came out to help.
"One of them was an EMT, and another works up at the U in the emergency room," Cracroft said. "They got the child out and started CPR."
The child was then transported to Primary Children's Hospital and was pronounced deceased at the hospital.
Cracroft praised the neighbors and witnesses who immediately rushed to help, "but unfortunately, the child's injuries were too severe."
He said a booster seat was in the back of the vehicle, "so our assumption is that the child was in the booster seat, but I don't know if the child was big enough to be in the seat or not."
An accident of this type is unusual for the area, Cracroft said.
"The speed here is 30 (mph), and we don't suspect excessive speed was involved. We don't know the cause — we just plain don't know."
A Crash Analysis Reconstruction Team (CART) was responding to the scene, and the investigation was being turned over to them, Cracroft said.
He anticipated that the area would be closed to traffic for several hours while the investigation continued.
Gephardt Daily will update this story as more information becomes available.