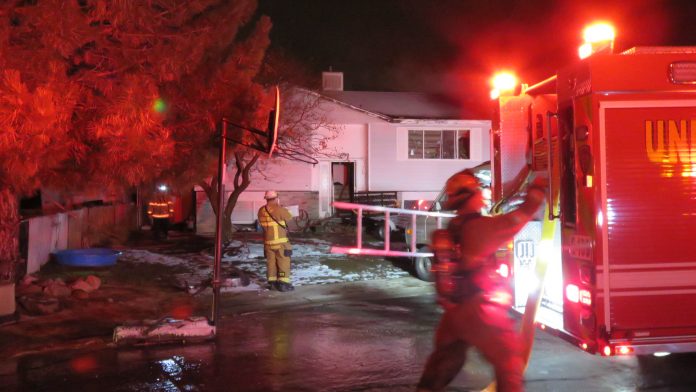 KEARNS, Utah, Dec. 16, 2016 (Gephardt Daily) — A chimney fire caught a Kearns couple off-guard Friday evening, and before they realized what was actually happening, their home was ablaze.
The 911 call came in a little before 7:30 p.m. Unified Fire Authority Public Information Officer Taylor Sandstrom said firefighters arrived at 5999 W. Jargon Circle and saw smoke and flames coming from the home.
One person was confirmed to be inside the home, Sandstrom said, but that person evacuated and there were no apparent injuries.
The cause of the fire is under investigation, but it appears to be related to heating the home with a fireplace, he said. Investigators will determine the exact cause.
The couple who live in the home, along with two children and a dog and cat, were "depressed and numb" in the aftermath of the fire, but relieved that everyone got out safely and no one was hurt.
Andy Franklin explained to Gephardt Daily that they had a fire going in the fireplace when he noticed "a glow underneath it. So I poured water on it, thinking it would take care of it." But when he pulled away the granite base of the fireplace, it was still burning underneath.
"She got the hose out," Franklin said, indicating Mackayla Arlt, standing beside him. "I was getting soaked, but it wasn't working, so we called the fire department."
"And here we are," Arlt said softly.
The problem for the couple was that they initially weren't aware of what was really happening. A chimney fire isn't always visible, and by the time you know it's there, it's too late to do anything but call the fire department. The fire is in the wall, traveling up the chimney.
"It got onto the insulation," Franklin said. "The insulation is dry, it's an older house, and it just (finger snap) went up. It was right behind the fireplace. I saw the paint starting to bubble — and then the fire department got here as I was on the bottom. I didn't think it was that high — but it was in the wall, the chimney, the attic."
The home won't be habitable Friday night, so the couple was going to find a place for their family to stay.
UFA's Sandstrom said firefighters were able to save most of the house, and damage is estimated at $50,000. Most of the damage, he said, is to the home's exterior.
"The weather's getting colder," he said, "and we understand that a lot of people like to have a fire going. But it's really important to have the chimney cleaned annually."
Sandstrom said a lot of homes have wood frames and chimneys that have a brick exterior.
"They aren't designed for open fireplaces. They're designed for a wood-burning stove or a pellet stove," he said, explaining that he was talking about chimneys in general. "I haven't seen this one, so I can't say that misuse was the cause here."
Asked if he had anything else to say, Sandstrom replied, "Yes! Change the batteries in your smoke detector twice a year, and have your chimney professionally cleaned every year."