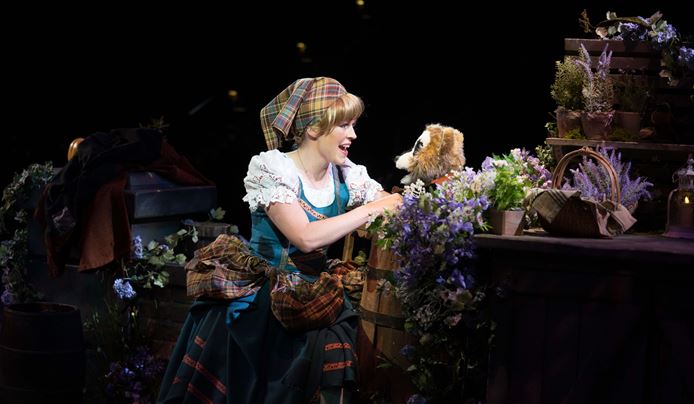 SANDY, Utah, July 17, 2019 (Gephardt Daily) — Let's face it: Some fairytales age better than others.
Mulan, as told in the 1998 Disney film, literally goes to battle to keep her ailing father safe from war. Sleeping Beauty, in Disney's 1959, animated tale, is cursed with sleep and lies around until a stranger kisses her, of course without her consent.
Some of these stories sound more politically correct for our times than the others to you? #MeToo.
And "Beauty and the Beast"'s Belle (Disney, 1991) provides us with a self-educated, discerning leading lass who would never dwell in the ashes like a certain victimized Cinderella did in the 1950 Disney film or Rodger and Hammerstein's 1957 made-for-TV musical.
But Cinderella got a new lease on life with a 2013 Broadway stage adaptation by Douglas Carter Beane.
The modern facelift/rewrite — in which Cinderella gets a little more proactive and Prince Charming gets a first name (Topher) and a few humanizing foibles — is the version you'll see at Sandy's Hale Centre Theatre.
The title role is shared by Shae Robins, playing Mondays, Wednesdays and Fridays (the cast reviewed) and by Amy Keeler on Tuesdays, Thursdays and Saturdays. This Cinderella is verbally abused and belittled, and forced to serve her stepmother and stepsisters, but is not dressed in rags or covered with cinders.
Robins has a beautiful voice, and does a great job of portraying Ella's emotions, her kindness and her upbeat spirit.
Topher, played by Preston Taylor (M/W/F) and Derek Smith, is one prince who's not a royal pain. He's humble, and gets flustered around a certain pretty peasant girl. Topher leaves the decision making to the confident court member, Prime Minister, played by B.J. Whimpey (M/W/F) and Ben Henderson (T/TH/S).
Whimpey, who was double cast as "the great and powerful" in Hale's "The Wizard of Oz," plays his subtly menacing role masterfully.
Sebastian is an addition to the original story, as is young upstart Jean-Michel. He's a serious guy who reads books and believes the government should benefit the commoners as well as the crown. Jean-Michel is played by Kelton Davis and Keith Evans.
And Jean-Michel also has eyes for one of Ella's stepsisters, Gabrielle (Rachel Bigler/Kelly Coombs), who is mutually smitten, and who gains some empathy during the course of the show.
Adding a counter balance of pure comedy is Ella's other stepsister Charlotte (Kristi Curtis and Ali Bennett). Charlotte is greedy, transparent in her motives, and a total hoot. Curtis was hysterical in the role on the night reviewed.
Adding to the magic are elegant costumes designed by Maryanne Hill, with hair and makeup by Krissa Lent; sets by Kacey Udy; lights by Brian Healey and projection design by Bobby Gibson; and music direction by Gary Sorenson. Pulling it all together is director/choreographer Dave Tinney.
It's a beautiful production with updates that speak to those who appreciate fleshed out characters, empowered women, men who know vulnerability is a strength, and everyone who understands that all members of the community deserve respect.
The show continues Mondays through Saturdays through Sept. 7, and is open to those 5 and older. For more ticket and theater information, click here.