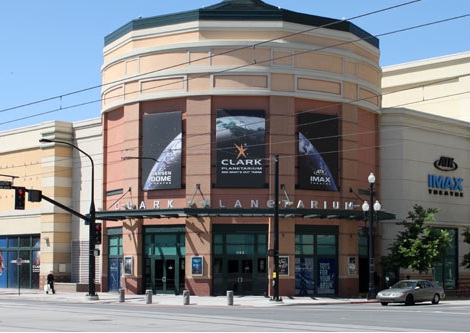 Clark Planetarium Reaches For The Stars
Clark Planetarium's aim is to create and present enlightening experiences that inspire wonder in learning about space and science, and to promote greater public awareness of the science in ou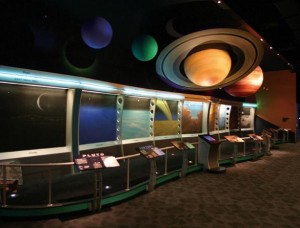 r daily lives.
Programs director Mike Murray said the Planetarium has something for everyone. "It's where children of all ages, seven through 87, can have a lot of fun learning about the greater universe and where our place is in it. The real purpose of the Planetarium is to excite people's interest in science and technology and it's really fun and exciting and creative elements of science that we get to communicate with entertaining programs.
"We rank as one of the top planetariums in the world in terms of the kind of production work we're capable of doing here, and also in terms of the incredible talent we have in terms of making shows that are very professional but also very accurate. We have our own production department and since 2003 we've produced 16 different programs. Last year we opened a show called Exploding Universe, so if you like to blow things up that's a great show."
The Clark Planetarium Production Department is carrying on the 37-year tradition of the Hansen Planetarium by creating and distributing cutting edge content for planetariums worldwide.
[one_fourth]
[/one_fourth][three_fourth_last] "When we're trying to decide what types of topics to cover we do surveys, do even test screenings of other shows to find out what's of interest to the local community and so that helps to guide our thinking, and even show design when it comes to producing original shows," added Murray.
"Even though we've been here 12 years, it's time to continually evolve and change and improve the offerings we have. We have a big plan for renovating our exhibits, almost all our exhibits will be replaced. So the idea is to really find what kind of things, what kind of elements do people like, the hands-on elements, things that are a bit more interactive so we'll be doing a complete make-over of our exhibits and we're putting them into the floor in about two years."
The Clark Planetarium, in the Gateway, opened in April 2003, replacing the historic Hansen Planetarium under a grant from the Clark Foundation in co-operation with Salt Lake County.
The planetarium includes the Hansen Dome Theater; the first "pitless" digital dome planetarium in the USA, an IMAX Theater and 10,000 square feet of free exhibits including the newly installed "Science on a Sphere," a computer animation globe by NOAA. Also unique is "Newton's Daydream," the most ambitious audio-kinetic sculpture ever created by artist George Rhoads. The Clark Planetarium is also one of the few institutions to have an authentic moon rock sample on permanent loan from NASA. New exhibits are added on a regular basis, including a rocketry display by ATK Launch Systems of Utah, a Solar Energy exhibit, and "Weight on Other Worlds."
The education department at the planetarium serves over 75,000 school children a year through field trips and traveling science education programs throughout the state of Utah. Outreach programs include auditorium programs which showcase some of the best interactive science demonstrations possible.