LAS VEGAS, May 10, 2016 (Gephardt Daily) — An attorney for imprisoned Nevada rancher Cliven Bundy on Tuesday filed a complaint against United States District Court Judge Gloria Navarro, Nevada U.S. Sen. Harry Reid, Reid's son Rory Reid, and Pres. Barack Obama.
The complaint asks the court to dismiss the indictment against Bundy, 70, and release him from jail and solitary confinement.
Bundy attorney Joel Hansen delivered a hard copy of the lawsuit to Navarro during a scheduled detention hearing for his client.
Hansen said Harry Reid, Rory Reid and Obama are named in the complaint because Bundy believes they are plotting to steal his land. Navarro was named in the complaint in part because Harry Reid, when he was Senate Democratic majority leader, recommended her for the judgeship, so she could be biased in Reid's favor.
Navarro told Hansen that case law does not support a defendant creating such a scenario, and set a date of May 25 to rule on whether she will step aside.
Bundy was arrested by FBI agents on Feb. 10 at the Portland Airport after announcing on social media that he was headed to Oregon, where two of his sons were among those who had been involved in a standoff at the Malheur National Wildlife Refuge. Two of Bundy's sons by then were in custody.
The elder Bundy was arrested on charges stemming from a 2014 armed standoff with federal agents that began with a dispute over cattle grazing fees at Bundy's Bunkerville, Nevada ranch.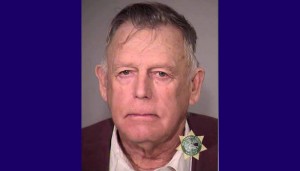 Charges included conspiracy, assault on a federal officer by use of a deadly weapon and aiding and abetting, interfering with commerce by extortion, and obstruction of justice.
The complaint filed Tuesday alleges that the defendants violated Bundy's rights, including his:
Sixth Amendment right to counsel and for a speedy trial
Eighth Amendment right against cruel and unusual punishment (referring to Bundy's being held in solitary confinement)
Second Amendment right to bear arms in self-defense
And First Amendment right to assemble in self-defense.
To view the full complaint, click the website of attorney Larry Klayman, here. Navarro has refused to let Klayman lead Bundy's defense team, citing disciplinary proceedings against the lawyer in Washington, D.C., where his office is based.