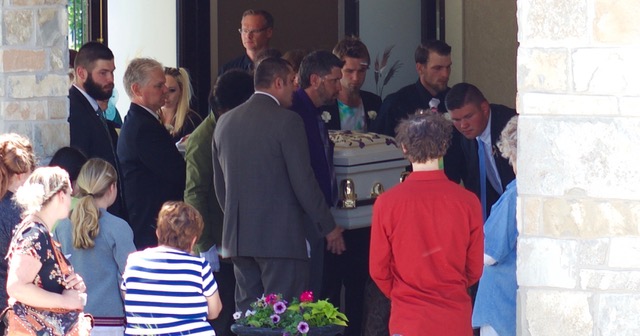 LOGAN, Utah, June 4, 2019 (Gephardt Daily) — Hundreds of community members filed into the Logan funeral home on Tuesday to pay 5-year-old Lizzy Shelley their last respects.
Or, in most cases, their first and last respects.
Few at the memorial service could have guessed two weeks earlier that they would be there to support the family of a girl they never met. And nobody could have known Lizzy would touch so many hearts, both in life and after she was gone.
From the first urgent request from police for citizens to check their yards for signs of Lizzy, to the organized searches, to the confirmation that the worst had happened, Lizzy left a mark on her community.
Mitchell Shirts, of Hyrum, never met Lizzy, but he understands the magnitude of the loss.
"That was a loved child, and she was taken out of this world," Shirts said. "Yeah, things like this do happen. We can't stop it all the time. But when a little kid is taken out of the world for no apparent reason, honestly, it hurts."
Cindy Henson also came out to Lizzy's memorial.
"(To show) my support to this beautiful family and the beautiful spirit this child had," she said, adding that she was surprised by the number of people who turned out.
"It shows me how much love you don't know is really out there," she said. "You see all the bad and evil, and then this happens. And you see how much our petty differences don't mean that much compared to what's happening today and all this past week."
The people of Cache County and the surrounding area are "amazing," she said.
"They just love so much, someone they don't even know. There are no words. I actually have no words. I have no words to describe today, to describe all these bikers."
When the call went out for bikers to escort Lizzy's casket and her family to the gravesite for a private service, hundreds showed up. They lined the side of the roadway, waiting, somberly and respectfully, for the public service to conclude.
Many inside the funeral home had brought "picked flowers," as requested in Lizzy's obituary. Picking flowers or gathering pretty stones, then re-gifting them to others, was a favorite pastime of the little girl.
Other hobbies included protecting earthworms and blowing good-luck kisses at passing ambulances. Lizzy also loved rainbows, a fact noted in her obituary.
"Our sweet Lizzy, Elizabeth Jessica Shelley, received her sparkly rainbow wings on May 25, 2019," the notice said in part.
"In her short and amazing 5 years, Lizzy was able to touch so many lives. Her spunky, curious, polite, selfless nature would light up a room. Lizzy made the world a more beautiful place. She could often be found picking flowers, cleaning up litter she would find, or protecting worms."
"… She adored all of life's small wonders such as these, and got so excited whenever she would see one. She always dreamed of growing wings and flying to her own special rainbow."
The obituary also suggested that everyone take a lesson from Lizzy and enjoy the small, beautiful details of life, welcome joy, and appreciate the moments.
"As we 'Live Like Lizzy' and continue to celebrate her, we know she is with us sitting on top of a rainbow with her beautiful rainbow wings," it said.
Shurtz said he is proud of how the community has come together, first in an attempt to help Lizzy, then to support those she left behind.
"I didn't know the family, but I'm pretty sure if I would have met that little girl myself, I would have taken to her like one of my own."
"It makes me feel better," he said. "The world is already going downhill as quick as possible. I'm glad to see everyone unite for this little girl. It shows there's still faith in humanity. We still have a population and a community that is willing to be there for everybody."