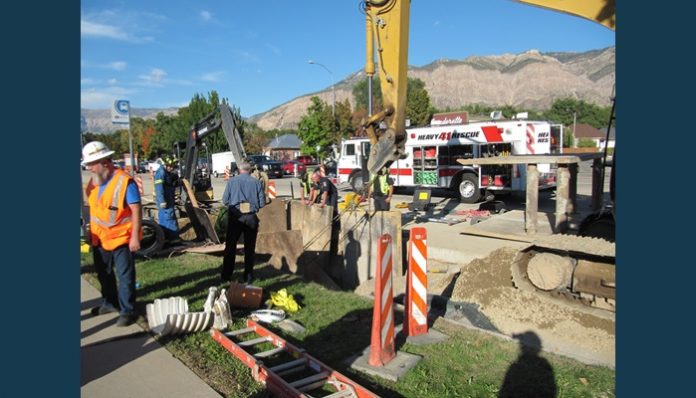 OGDEN, Utah, Sept. 29, 2017 (Gephardt Daily) — A construction worker was seriously injured late Friday afternoon when a panel fell on him while he and a crew were working on repairs to Washington Boulevard in Ogden.
Battalion Chief Mike Slater, Ogden City Fire Department, said the city and county Rescue Team was called to perform a trench rescue near 10th Street and Washington, where sewer work is being done, after the 6,000-pound metal panel fell on the man while he was in the curbside trench.
Slater wasn't sure if the injured man was completely or partially in the trench when the panel fell.
The condition of the injured worker was unknown, Slater said, as he had just been extricated and taken away in an ambulance. Slater said less than an hour elapsed between the time crews were notified and the time they brought the man up out of the trench.
Nine rescue workers responded from Ogden City and three from Riverdale to assist with what looked to be a desperate situation. Slater said medical treatment was applied while the panel was being lifted off the injured man.
The sewer construction work is being done by an independent contractor, not Ogden City. Slater was unable to provide the name of the company.
He said the injured man was not being identified due to privacy laws.
Gephardt Daily will update this story as more information becomes available.
10th St. & Washington Blvd., Ogden