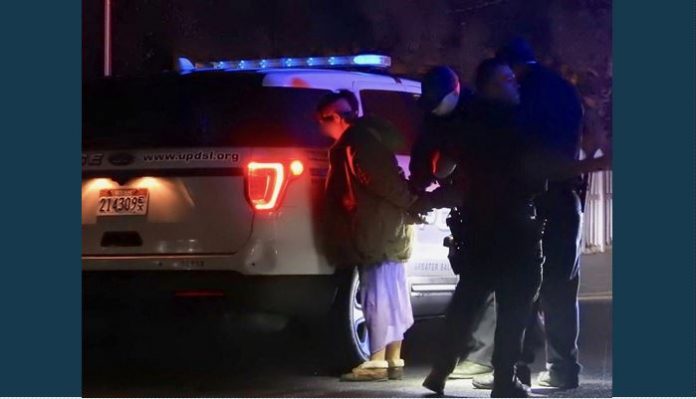 SANDY, Utah, March 2, 2019 (Gephardt Daily) — A man and woman are in custody after allegedly trying to run down a police officer during a winding high-speed chase across the Salt Lake Valley early Saturday morning.
The pursuit began just before 4 a.m. when a Unified police officer spotted a couple "checking out vehicles" in a parking lot near 4300 S. Main.
Officers in unmarked vehicles were sent to the area and soon found the suspects' car. Police ran the car's license plate and discovered the plate was stolen.
Officers continued following the suspects' car until it came to a dead end in a neighborhood near 1300 West and 6900 South. When officers attempted a traffic stop, the suspects suddenly sped off.
UPD Sgt. Shawn Fawcett told Gephardt Daily that as the suspects fled, the driver tried to run over an officer attempting to spike their tires.
The suspect vehicle sped away, making it to Interstate 15 before heading south through Sandy, West Jordan and Draper.
The suspects exited the highway, driving east on 12300 South before grinding to a halt near 1700 East and Wasatch Boulevard.
The car's driver, identified as Cody Leroy Ramseyer, 38, was taken into custody along with a female passenger. Ramseyer was booked on suspicion of:
Assault against a peace officer with weapon or force, a second-degree felony
Failure to stop or respond at the command of police, a third-degree felony
Theft by receiving stolen property, a class B misdemeanor
Driving on denied license, a class C misdemeanor
Operating a vehicle without insurance, an infraction
Traffic control signal violations, an infraction
Failure to register a vehicle or expired vehicle registration, an infraction
A probable cause statement confirmed that an officer was targeted.
"An officer was in position to spike the vehicle's tires as it fled, but the fleeing vehicle swerved toward the officer and came at him, and he had to jump out of the way of the vehicle so he would not be ran over," the statement says, adding that Ramseyer is accused of committing the crimes while on probation for one or more previous convictions.
Ramseyer is being held on $100,000 bail.