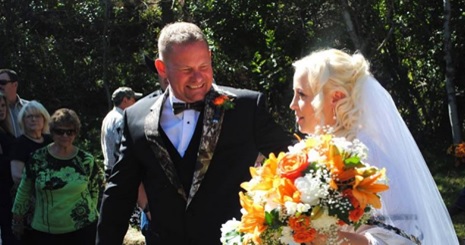 SPRINGVILLE, Utah, June 11, 2016 (Gephardt Daily) — An Elk Ridge couple was found dead Friday afternoon after their pickup rolled 600 feet down an embankment in Hobble Creek Canyon.
Deputies with the Utah County Sheriff's Office were dispatched at 4:30 p.m. Friday when a bicyclist reported a possible crash along the Right Fork Hobble Creek Road after seeing "skid marks and car parts" going over the edge of a cliff.
When deputies arrived, they located a crashed Dodge pickup truck 600 feet below the dirt road, at the bottom of the embankment.
The pickup was registered to Lance J. Simpson, 46, of Elk Ridge. Deputies located his body and the body of his wife, Jade Simpson, at different points along the path where the truck rolled multiple times before coming to a rest.
After Utah County Sheriff's Office Search and Rescue volunteers recovered the Simpsons' bodies, they were taken to the Office of Medical Examiner in Salt Lake City.
Tami's Pine Valley Funeral Home, in Halfway, Oregon posted an online notification that the couple's services would be held there.
Sgt. Spencer Cannon said there was some indication the couple was new to the area, noting that Lance Simpson had recently received a Utah driver's license and registered his vehicle to Elk Ridge.
Lance and Jade Simpson's Facebook page shows they lived in Goldendale, Washington, and he was an employee of Pacificorp.
A post by Valerie Simpson, Lance Simpson's
sister, said the couple's dog also died in the crash, but that has not been verified by authorities.
Investigators were not able to determine what caused the truck to leave the road or whether the victims were restrained because of extensive damage to the truck.
Deputies reported they did not find tire tracks or evidence the pickup had skidded on the road before going over the side.
There was evidence at the scene and in the pickup that leads investigators to believe alcohol may have been a factor in the crash.
The official cause of the crash remains under investigation.