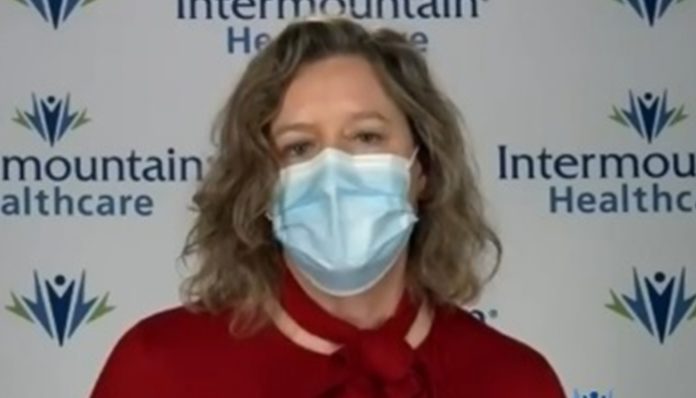 UTAH, Dec. 14, 2020 (Gephardt Daily) — Intermountain Healthcare held a press conference Monday morning as the COVID-19 vaccine begins to arrive in Utah.
"Four Intermountain Healthcare hospitals will be the first Utah hospitals to receive them," according to a news release from Intermountain Healthcare. "As soon as shipments arrive on Monday and Tuesday as anticipated, Intermountain will initiate a tiered-distribution process to begin vaccinations for frontline caregivers."
The four Intermountain hospitals expecting shipments on Monday and Tuesday are Intermountain Medical Center in Murray, LDS Hospital in Salt Lake City, Dixie Regional Medical Center in St. George and Utah Valley Hospital in Provo.
The University of Utah Hospital is also among the first group of Utah hospitals to receive the vaccine.
Intermountain physicians held a Zoom press briefing Monday at 10:30 a.m. to provide an update on vaccine arrival, prioritization for vaccination, roll-out plans, safety updates, and an update on the impact of COVID-19 on hospital volumes and capacity.
Dr. Kristin Dascomb, Dr. Eddie Stenehjem and Sean Talley, an Intermountain Medical Center shock and trauma ICU manager, spoke at the press conference.
Dascomb, who is Intermountain Healthcare medical director of infection prevention for employee health, gave an update on the timeline and the process of the Pfizer vaccine.
She said: "We are excited to be able to offer this to our caregivers as a safe prevention from COVID-19."
Two of Intermountain facilities received the vaccines Monday; LDS Hospital and Utah Valley Hospital, Dascomb said. The other two are likely to receive the vaccine either Tuesday or by the end of the week.
Officials will begin vaccinating those who are highest risk for the virus starting most likely Wednesday afternoon. This includes those who work in COVID-19 units, ICU doctors, nurses, technicians, environmental services teams who deal with COVID-19 related waste and those in respiratory therapy.
All healthcare workers are in the category 1A for distribution, she said.
"In order to ensure that our caregivers are safe, we will have a robust tracking system in place for anticipated adverse events," Dascomb said. Concerns will be reported and there will be an employee health resource available for caregivers. Officials will be working with units and facilities to ensure the vaccine is administered at a time when the healthcare worker can be at home.
Caregivers are not obligated to receive the vaccine and Dascomb said officials predict that approximately 70 percent of caregivers will opt to recieve it.
Dascomb said the vaccine is being stored at an Intermountain pharmacy to ensure temperature stability and security. The vaccine takes between 30 minutes and three hours to thaw. The vaccine then needs to be administered within six hours.
She said healthcare providers will announce when the public is able to begin getting vaccinated, and the vaccine will be given first to those over 65 and those with comorbities; the simultaneous presence of two or more diseases or medical conditions in a patient. She said this is likely to occur early in the New Year. Dascomb said data analytics would be used to identify those within the Intermountain Medical community to actively recruit them to receive the vaccine, then once that begins the vaccine will be likely be offered to the general community somewhere between March and June.
Stenehjem, Intermountain Healthcare infectious diseases physician, said: "Today we come to you with optimism and with hope. Today signals the beginning of the end of this pandemic here in Utah. We now have a new and effective tool to combat this pandemic, in addition to the public health measures which we know work; social distancing, wearing a mask, washing our hands. This is a proud day for science and a proud day for medicine."
He added: "I want to reassure everybody that our group of infection disease physicians across Intermountain Healthcare have spent time with the data in this vaccine. We've looked under the hood, we've reviewed the publication the New England Journal of Medicine, the data submitted to the FDA, the data submitted from Pfizer and we all feel that this vaccine is safe, and effective. We feel that this vaccine needs to be deployed in our healthcare settings and in our communities as soon as possible."
He said there are still questions about the vaccine, such as how long protection will last and whether it will prevent individuals from getting infected, or just from getting sick, and that these questions will take time to answer.
He added that other vaccines such as Moderna and Johnson & Johnson will come soon.
"Think of this vaccine as the light at the end of the tunnel," he said. "However, that tunnel that we're in is still quite long. We are still months away from widespread vaccination in our communities."
He said in the meantime individuals need to continue to continue to practice public health measures; and for Christmas and Hanukkah, celebrate with people inside your home and do not gather outside of your home.
The public is encouraged to get the vaccine even if they have had COVID-19, officials said. The data that has come out of the trial has showed that the vaccine is safe in those who have had a positive COVID-19 diagnosis.
Even if you are vaccinated you could still transmit the virus asymptotically so it is going to be very critical to maintain the public health measures, officials said.
For the full press conference click here.