OGDEN, Utah, Nov. 18, 2020 (Gephardt Daily) — COVID-19 patient Grover Wilhelmsen wanted to do something to give back to his caregivers at McKay-Dee Hospital.
But he could not thank them in words, since he was intubated. So Wilhelmsen asked if he could play his violin while in the ICU to help lift their spirits. He could show them his appreciation through music, a statement from Intermountain Healthcare says.
Registered nurse Ciara Sase was caring for Wilhelmsen when she learned of his idea for a "thank you" concert.
"He was intubated and unable to talk, but I knew from the other nurses that he's a retired orchestra teacher," Sase said. "He's been playing and teaching his entire life."
Sase said she and Wilhelmsen had been writing notes on a piece of paper to communicate.
"Toward the middle of my shift he wrote, 'You know, I really want to play here at the hospital. What do you think about my wife bringing in my violin and viola?'
"I said to him, 'We'd love to hear you play, it would bring so much brightness and positivity into our environment."
Staffers talked it over, and came up with a plan to keep the instruments and the patient safe. Dr. Jesse Mecham cleared the plan if Sase would remain in the room to safeguard all the patient's lines and tubes.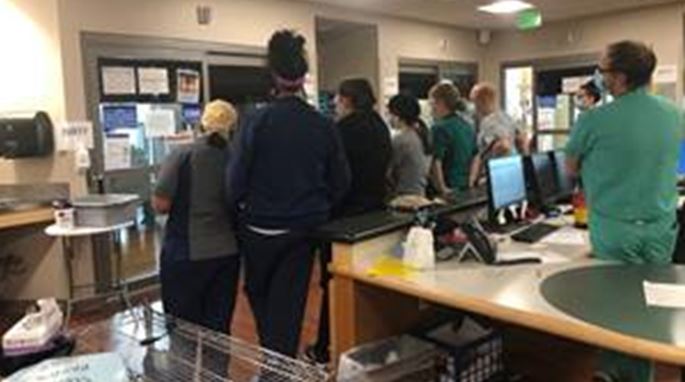 Wilhelmsen's wife of 47 years, Diana, brought both his violin and viola into the hospital, along with some music books. And then he not only played, he played for a few hours for two days in a row, the Intermountain Healthcare account says.
"About a dozen caregivers gathered to watch and listen in the ICU," she says. The songs included "The Tennessee Waltz" and lots of church hymns.
"It brought tears to my eyes," Sase said. "For all the staff to see a patient doing this while intubated was unbelievable," she says. "Even though he was so sick, he was still able to push through. You could see how much it meant to him. Playing kind of helped to soothe his nerves and brought him back to the moment."
Wilhelmsen was later discharged, to continue his recovery at a care facility.