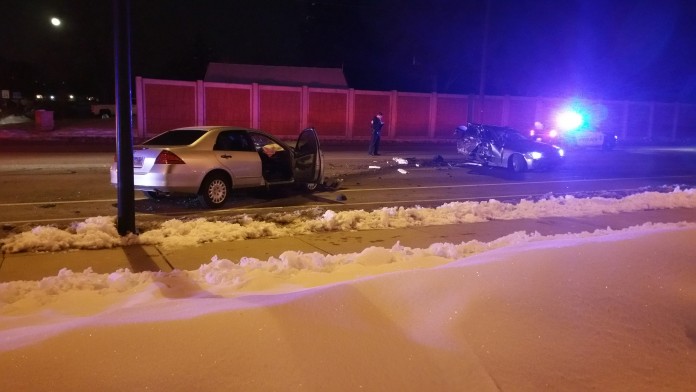 SANDY, Utah, Jan. 27, 2016 (Gephardt Daily) — Three people, including a 10-year-old boy, were injured in a high-impact collision in Sandy Tuesday night.
According to Sandy City Police Sgt. Dean Carriger, the accident happened just before 9 p.m. near 9900 South and 700 East when a 25-year-old man driving a gray Lexus was headed north on 700 East, and he lost control of his vehicle.
"The man, a resident of Sandy, appears to have been traveling well above the posted speed limit when he lost control and spun across the lanes into southbound traffic," Carriger said.
"He impacted with a Honda Civic driven by a 49-year-old male who had his son with him, both of them are also residents of Sandy."
The driver of the Lexus was taken to Intermountain Medical Center with serious injuries, but was downgraded to critical once he arrived.
The driver of the Honda and his son were also take to area hospitals in serious condition, and are currently listed as stable.
Carriger said the investigation is ongoing, and officers are still determining if drugs or alcohol were factors. Carriger said charges are likely, but his office is waiting for more information before determining the charges to be filed.