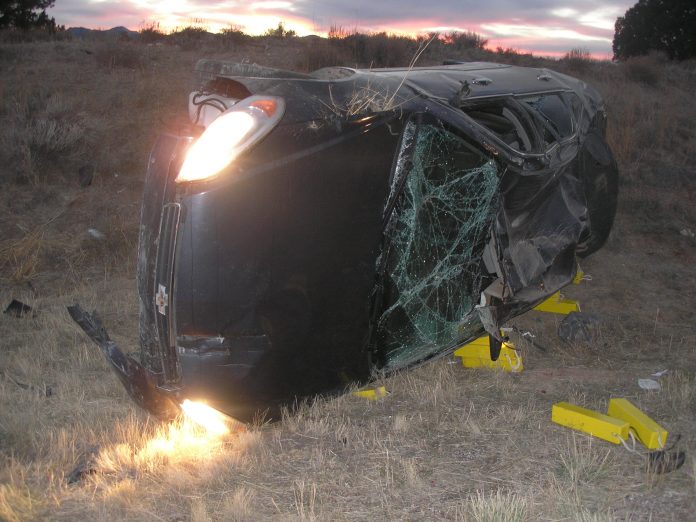 NEWCASTLE, Utah, Dec. 2, 2016 (Gephardt Daily) — An infant remains in Primary Children's Hospital after a single-vehicle rollover crash near Newcastle in southern Utah Wednesday afternoon, according to officials.
A news release from the Utah Highway Patrol said a Chevy Impala was driving west on State Route 56 near mile post 38, at approximately 5 p.m., when the car began to drift off the right side of the roadway.
The driver then over-corrected to the left and skidded across the roadway and off the left side of the highway. The vehicle continued to slide until it hit an embankment, then it rolled at least two times, coming to a rest on its left side.
There were two 3-month-old babies in the back of the vehicle in car seats. The car seats appear to not have been fastened correctly. One of the babies came out of the car seat and was found lying inside the car. This baby appeared to have non-life threatening injuries, but was transported to Primary Children's Hospital by LifeFlight. UHP updated Friday the infant is still in the hospital, but the infant's condition has been upgraded.
The infant's mother, who was driving, was wearing a seatbelt. The mother and the other child were taken to Cedar City Hospital, with minor injuries. It was not immediately clear whether the driver was the mother of both children, or only the child that was flown to hospital.
The highway was shut down for a short time while Life Flight landed.
UHP is investigating speed as a possible factor in this crash.