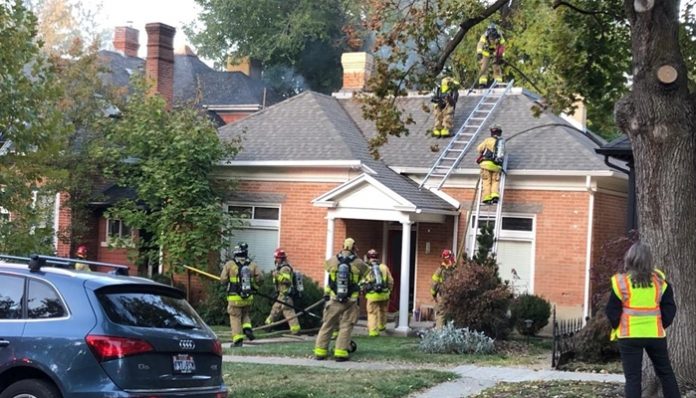 SALT LAKE CITY, Utah, Oct. 16, 2019 (Gephardt Daily) — Crews battled a two-alarm fire in the Avenues in Salt Lake City Wednesday morning.
Captain Tony Stowe from Salt Lake City Fire Department told Gephardt Daily the fire started in between two small bungalow style houses in the area of 73 N. L Street in the Avenues.
"The flames got tall enough that it extended into the attic portions of both those houses," Stowe said. "So we had two simultaneous single family residence structure fires at the same time and so that caused us to bump this up to a second-alarm fire."
Stowe said there were no injuries as a result of the incident.
"We have no injuries to report at this time, everyone was able to evacuate their houses in a timely manner, fire crews were able to get the fires under control fairly rapidly, as we did bump that up to a second alarm pretty quickly and had hands on deck right away."
At this early stage there is no exact dollar amount on damages.
"I wouldn't say the houses are totaled, they can most likely be rebuilt, the areas of the fire were pretty much contained to the attic portion," Stowe said.
He added the cause of the fires is under investigation.
Gephardt Daily will have more on this developing story as information is made available.