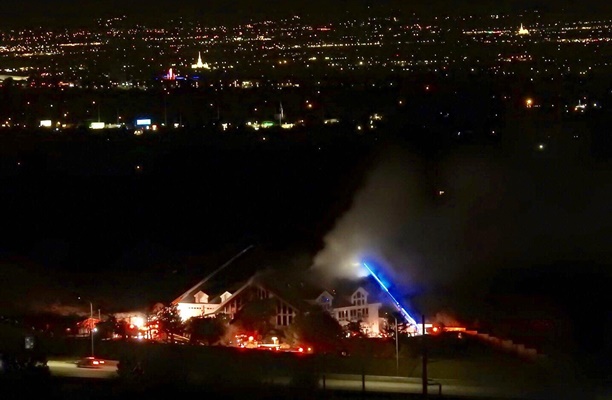 HOLLADAY, Utah, Aug. 4, 2019 (Gephardt Daily) — A fire that began in a 25,000-square-foot home on Saturday night and raged into Sunday morning gave Unified Fire Authority crews no respite as day became night again.
"Tolcate Woods fire operations continue," UFA tweeted late Sunday afternoon.
"Holladay blvd has been reopened for through traffic. It had been closed as a precaution as we had extra units protecting adjacent properties. This was a conservative measure while the fire experienced some expected structural collapse," a tweet later Sunday night said.
The single-family structure on the west side of Interstate 215, at 6085 S. Tolcate Woods Lane (2930 East), was difficult for firefighters to access when they first arrived around 8:30 p.m. Saturday.
Flames that appeared to be only in the attic when crews arrived quickly spread throughout every level of the home, gradually compromising the stability of floors and walls until firefighters were forced, for their own safety, to battle the inferno from outside.
There have been "water supply challenges," as well as the property's "unique construction," as noted by UFA. And on Sunday, the wind picked up enough to raise concerns of errant embers sparking another fire.
UFA tweeted Sunday night that they have no estimated time for this fire-fighting operation to end, and "efforts will continue 24/7 until it's resolved."
Gephardt Daily is following this story and will provide more information as it becomes available.