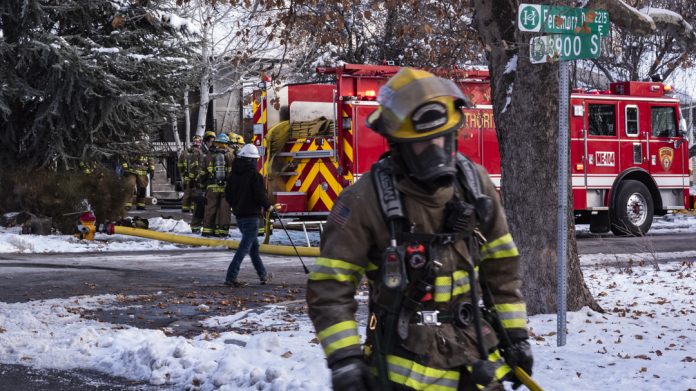 HOLLADAY, Utah, Dec. 28, 2018 (Gephardt Daily) — Firefighters responded to a residential fire Friday afternoon in Holladay.
Crews from the Unified Fire Authority and the South Salt Lake Police Department arrived at the scene, 3915 S. Feramorz Drive (2215 East), at about 2 p.m.
"It was a duplex with smoke and flames coming from the basement of one unit," Ryan Love, Unified Fire authority PIO and firefighter, told Gephardt Daily.
UFA Sgt. Nicholas Roberts said the owner of the three-level duplex lives in the unit on the north side, and rents out the unit on the south on a short-term basis.
Roberts said the most recent renters of the south unit of the duplex — the one that burned — had been there several weeks and left earlier on Friday.
It was the building owner who called in the fire, Roberts said.
Roberts said the damage appeared to be confined to the south unit  except for some possible transference at the attic level.
"We arrived quickly, hit it very fast, and they are continuing," Roberts said of firefighters.
No monetary damage estimate or cause of the fire were available, Roberts said. No one was at home when the fire was reported, and no crews were injured in the firefighting effort.
At 3:20 p.m., Roberts estimated roads around the fire would be closed for two or three hours for the investigation, and he suggested that drivers try to void 2100 East and 3900 South until at least 5 or 6 p.m.