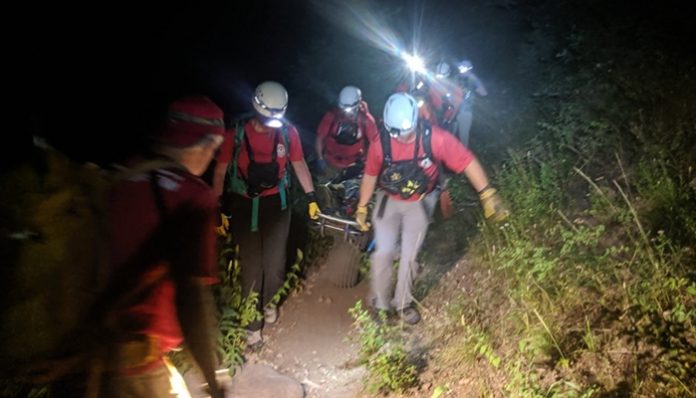 SALT LAKE COUNTY, Utah, Aug. 6, 2019 (Gephardt Daily) — Salt Lake County search and rescue crews assisted a man who broke his ankle in Neff's Canyon Monday evening.
Teams were called out just before 8 p.m. for the 41-year-old man, who was hiking alone with his dog, said a Facebook post from Salt Lake County Sheriff's Search and Rescue. On the way down the canyon the man rolled and broke his left ankle, the post said. He was able to make a phone call asking for help.
"Salt Lake County Search and Rescue was finishing a boat training at the Great Salt Lake at the time of the call out," the post said. "Many of the SAR members came straight from the training to the rescue. A hasty team was sent up to find the patient and report any additional gear that would be needed."
The man and his dog were found about two miles up the trail.
"Crews used a litter and wheel to get the patient down the trail while Ruby, our K-9 patient, was taken care of and walked back to the trailhead," the post said. A litter and wheel is a stretcher with a wheel or wheels.
All team members got off the mountain around midnight, the post added.