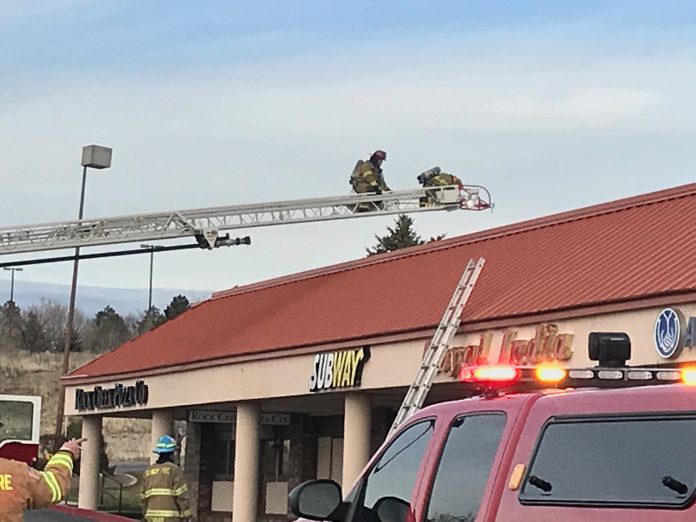 SANDY, Utah, Nov. 24, 2017 (Gephardt Daily) — Multiple agencies responded to a fire at a strip mall Friday after a 911 call was received reporting "a lot of smoke" coming from a rooftop at 10267 S. 1300 East.
Sandy Fire Battalion Chief Tim Norris said the call came in at about 3 p.m.
On arrival, fire crews found smoke and flames coming from what they believe to be a heating/air-conditioning exhaust vent.
"The fire was confined to Royal India," Norris said.
It's possible the fire was grease-related, he said, but the actual cause is still under investigation.
He referred to this particular incident as a "deck fire, a very complex fire," because the fire is in the materials within the roof itself, and it burns between the two layers.
A couple of nearby businesses were occupied and were evacuated, Norris said, while others sheltered in place.
He said it was initially a one-alarm fire, and with the help of other agencies, most all of Sandy units responded, plus crews from Unified Fire Authority and South Jordan.
After the fire appeared to be extinguished, firefighters remained on scene to make sure it was completely out, with no hot spots.
There were no injuries, and Norris said cost of the damage is still to be determined.