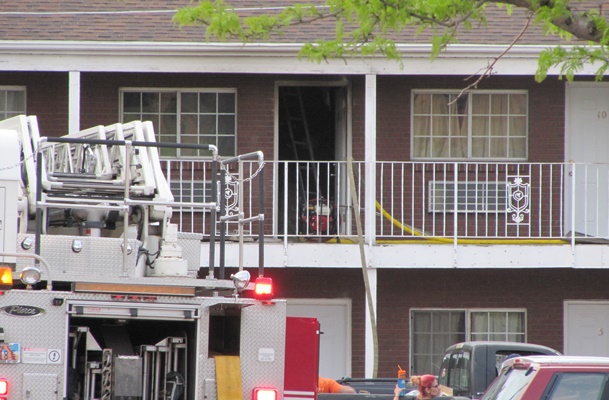 OGDEN, Utah, May 6, 2019 (Gephardt Daily) — Smoke and flames in an apartment at Western Colony Inn brought firefighters and onlookers to the scene near Lincoln and 24th Street in Ogden on Monday evening.
Crews from Ogden and Riverdale fire departments were dispatched at 6:51 p.m. to the structure fire at 234 24th St.
They had the fire under control in about 10 minutes and completely extinguished about 10 minutes later. They then proceeded with salvage and cleanup operations while they cleared the smoke out of the apartment.
Everyone was safely evacuated from the building, and there were no injuries.
Ogden Police blocked traffic on busy 24th Street between Lincoln and Grant avenues while fire trucks lined the area.
The cause of the fire is still undetermined and is under investigation by the Office of the Fire Marshal.
Damage is estimated at $35,000, according to a tweet from the Ogden Fire Department.
"The occupants of 12 units are displaced as a result of the fire. The Red Cross is on scene assisting displaced occupants," the tweet said.
Eighteen firefighters from Ogden and Riverdale responded with two ladder trucks, two engines, a paramedic rescue, an ambulance, a deputy fire marshal and the battalion chief.