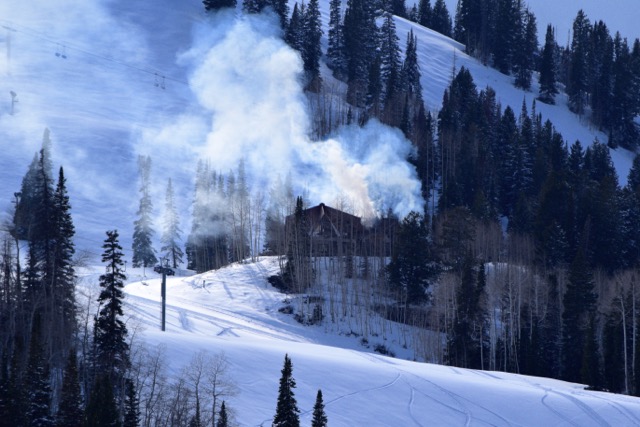 SOLITUDE, Utah, May 1, 2016 (Gephardt Daily) — Fire crews will use heavy lifting equipment to move debris after a fire at a restaurant mid-mountain at Solitude Mountain Resort Friday afternoon.
Unified Fire Authority tweeted Saturday evening that the investigation at the Roundhouse restaurant will continue into next week, and heavy equipment is needed to move debris safely.
The tweet also said that at this time, the cause of the fire is still undetermined.
Unified Fire Authority spokesman Dave Ulibarri said that Friday at about 3:30 p.m., crews were called to a blaze at the Roundhouse Restaurant, which is on Solitude grounds. The restaurant, which has been around since the resort originally opened, was closed for the season.
Ulibarri said there is no road to get a vehicle up there, so 15 firefighters reached the building by snowmobile and on foot.
Ulibarri said crews first worked to confirm there was no one inside the building.
"There was no water for the first while," he said. "Just recently we were able to get some water to a small pipe that's attached to the building and we attached a hose to that, and it's better than nothing."
Ulibarri said the fire was out by 5 or 6 p.m., and the building is not a total loss.